"Those who can't play guitar, play bass."
Well, a lot of people like to say that, but it takes a zen-like focus to hold down the rhythm section of a band. Without the Bass (Unless you are Jack White or Dan Auerbach perhaps) most songs can sound empty and lack that underlying sub-woofery wave that you sorely need.
What songs can Rocksmith 2014 offer for the aspiring bassist? Well, if you've overlooked these 20 songs we'd have to say you're doin' it wrong.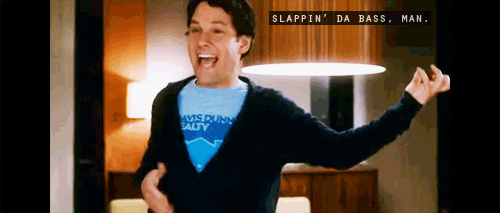 1. Limelight (RS1 DLC)
It's that right balance of challenging with fun. Because not everyone wants to tangle their fingers up in YYZ.
2. Higher Ground (RS Import)
Why is this the ONLY Red Hot Chili Peppers song we have so far?? Seriously… Why? Fix that please.
3. My Generation (Rocksmith 2014)
Entwhistle was a beast, wish the DLC picks better reflected some of his wilder bass lines though…
4. Hysteria (2014 DLC)
A definite fan favourite, what list would be complete without MOAR MUSE?
5. Alive (RS1 DLC)
This song is pretty great on everything! Lots of variation throughout awaits you, especially at the end when it gets slide happy!
6. I Was Made For Lovin' You (2014 DLC)
Say what you will about KISSCO but this bass line is fun as hell!
7. California Brain (RS1 Import)
Alright, so it's a bit of a frat boy jam and easily gets dismissed by most, but you really need to try the bass line. @Audrey123talks seems to like it!
8. Misery (RS1 DLC)
Haters look ridiculous as this is one of the most satisfying bass charts in the game
9. Good Times (RS1 DLC)
I said a hip hop, a hippie to the hippie, the hip, hip a hop, and you don't stop, a rock it…
10. Atarashii Hikari (2014 DLC)
If you're skeptical of why this song is on the list skip to 2:25 and you'll understand.
11. Hitch A Ride (2014 DLC)
Some call it the best bass chart so far for Rocksmith 2014… I'm just wondering why Tom Scholz can't just chill out for a second!
12. Two Princes (2014 DLC)
>Comes out as yesterday's DLC
>Already on best bass chart list
13. What's Going On (RS1 DLC)
One of my personal favourites. James Jamerson knew how to lay down a solid groove.
14. Voices (2014 DLC)
Not that many songs that have slapping in it available so far, so if you don't mind tuning down a bit (Eb Drop Db) then you might be interested in this song… SOYYYY!!!!
15. Basketcase (2014 DLC)
Fast paced and enjoyable, Mike Dirnt is no slouch on the bass.
16. Headlong Flight (RS1 DLC)
Drawing more attention to this amazing and recent song from Rush.
17. Black Betty (RS1 DLC)
Good Luck.
18. Brand New Kind of Blue (Rocksmith 2014)
Prepare to be surprised…
19. Me and The Bean (RS1 Import)
One of my favourite songs from Rocksmith. Some bias here but I really enjoy the kind of bass lines that go off on a completely different direction.
20. Redneck (RS1 DLC)
Just plain fun!
---
Did we miss any bass picks? (besides all the other RUSH songs) what's your dream bass song for Rocksmith 2014? Let us know!