Hello Rocksmith fans!
It's been three years since we received a @GreenDay song pack, finally it's time to get five more songs from the punk trio.
The clue yesterday, was solved pretty quickly but let's take a look anyway at what RollingStone222 had in mind.
Nailed it!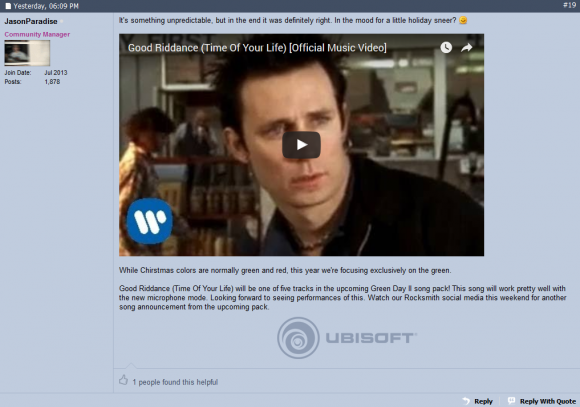 Who is going to check this one out on Microphone Mode?
With Good Riddance (Time Of Your Life) confirmed, what other songs could be possibly expect to see in the pack? Let's have a think…
---
What follows is speculation
Westworld is so hot right now. I'm sure all of UbiSF are enamored with Evan Rachel Wood and instantly tried to get this song as soon as they watched the first episode. This is also one of Green Day's biggest hits but I still think Westworld was the key influence here
No, Noel Gallagher, this isn't Wonderwall – it's Grammy winning Boulevard of Broken Dreams!
When this song comes around as DLC, I'm definitely going to buy it
You'd have to have a stewed brain and be incredibly jaded to not want this song in the game
Perhaps the Notetrackers are excited for Green Day's latest album too?
---
No matter what songs get chosen for Green Day's second pack outing, I think we can all agree this is a huge pack to end the year on. Or did the pack of the year come earlier? Let us know!
UPDATE:
We're ending 2016 with a Bang Bang. Learn to play five hits from @GreenDay starting this Tuesday! #Rocksmith pic.twitter.com/d7NCmcJWoX

— Rocksmith (@Rocksmithgame) December 18, 2016