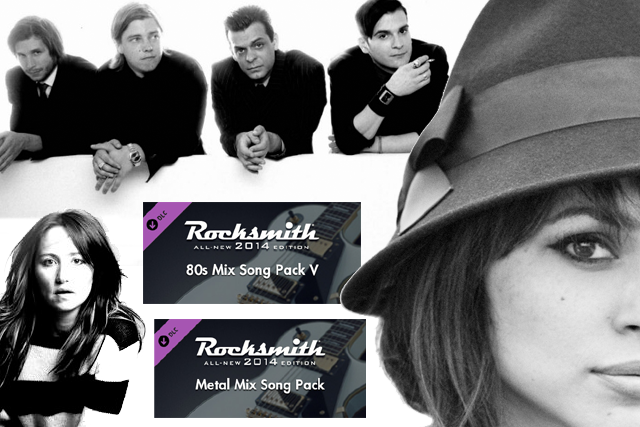 Hello Rocksmith fans!
Welcome to an even more delayed May DLC Round-Up!
Before we get to May, let's take a look at who you voted for as Best DLC of April 2018!
Looks like Variety reigns supreme as the 14th edition slightly edged out Dethklok's return to Rocksmith Remastered! The nostalgia of the 90's was stronger than overseas talent as you felt that Stereophonics were not the pick of April's litter.
---
May delivered quite the assortment of genres touching on Black Metal, Jazz, Indie Folk, and Post-Punk Revival!
We started off the month with a three pack from folk-rock artist KT Tunstall, followed by our fifth encounter with the 80s Mix featuring returning artists Earth, Wind & Fire, Billy Squier, and Styx! Next up after no resurgence of their music in the Rocksmith library since the original game (2011) we received a four pack from Interpol, metal fans got their first genre pack as @UbisoftStudioSF added Morbid Angel, Testament, and for the first time in a music game, Darkthrone to the library! Last but not least Norah Jones brought her smooth jazzy ensemble to Rocksmith with a three pack of hit songs!
---
Let's see what bassists had to master in May.
Is it just me, or is the verse kind of doomy?
This was a very surprising bass line
The whole pack is fantastic on bass, but PDA is definitely the stand out… It's quite the voyage on 4 strings
Let us know how you do your first try on the intro, It probably took Kevin a few tries to nail it like this
a death metal bassline for Kate!
A very fun walking bassline
---
Bassists didn't have all the fun in May, let's check out what guitarists had to play!
Good thumb chord practice!
Gotta get those fret hand mutes just right (woo hoo)
Solo is approachable but it's gonna take some time to make it sound good
So much shifting!
Indiegaze Surf Rock anyone?
Waiting for halsb to nail this one
Misirlou Evil Dracula from Norway edition
The solo in this song is so beautiful, definitely check it out
JazzSMITH
---
As usual this month was dominated by E Standard, but let's check out how it tallies up.
| | | | | |
| --- | --- | --- | --- | --- |
| Arrangement | E Standard | Drop D | Eb Standard | Capo |
| Lead | 14 | X | 1 | 2 |
| Rhythm | 13 | X | 1 | 1 |
| Bass | 12 | 3 | 1 | X |
| Alt. Lead | X | X | X | 1 |
| Alt. Rhythm | 1 | X | X | X |
Morbid Angel and Interpol breaking it up!
Which brings us to the question on everyone's mind…
See you soon!