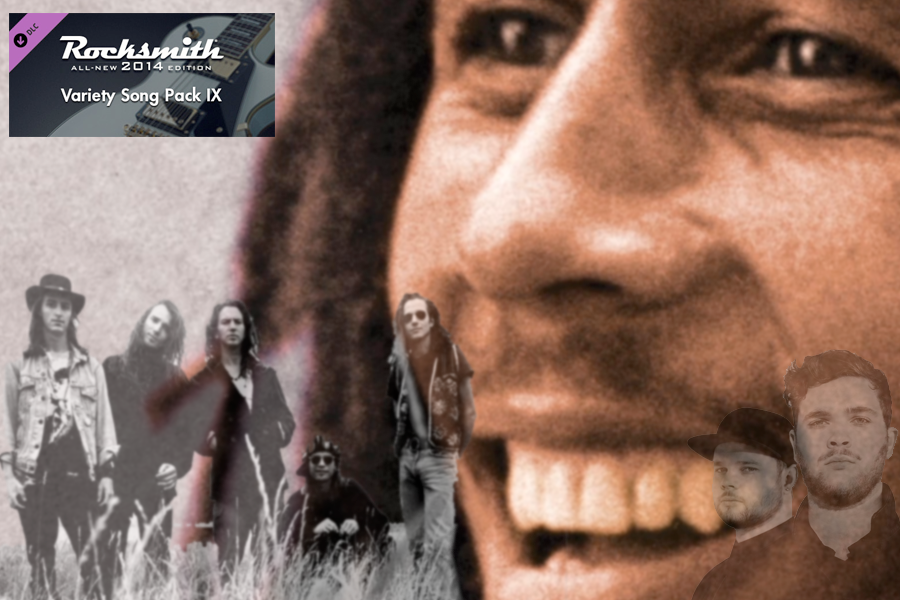 Hello Rocksmith fans!
Welcome to the Rocksmith DLC Round Up!
Before we get to the incredible month of April, let's check out how you voted last month!
Looks like Sebastian Bach and friends dominated the month, while Sk8er Boi beat out Skater Rock, and finally the 90s Mix II didn't quite jog anyone's memory.
---
We say it often, but April was truly a HUGE month for Rocksmith. We kicked off the month with the return of @PearlJam with a five pack, then we got Variety Pack IX which brought us two new artists and two additional songs from @311 and @chickenfootjoe, then finally we receive a full five song pack from @BobMarley and the Wailers giving us the roots reggae we sorely needed, and to end the month the long awaited arrival of @royalblooduk where the BASS is king!
---
How do bassists fare in a month that has tracks from Pearl Jam, 311, Bob Marley and the Wailers, and Royal Blood? Pretty damn good!
To be honest all of the Pearl Jam pack is pretty excellent on bass but this would definitely be the standout track.
Very happy to see a truly excellent bass line from P-Nut come to Rocksmith!
@pcgamingisted thinks this is the best bass line of Variety Pack IX though…
You know, there's something very interesting about the bass work in this song pack. You can't simply play the songs you actually have to feel it, you need to get in that pocket….
Must buy, buy this song now.
How can a bassist not buy this whole pack is beyond me (I'm sure I'll hear about why many times now).
Br00000000tal bass song
---
It wasn't ALL about bassists though, guitarists certainly had some choice tracks to work on!
Finally we get Yellow Ledbetter, and damn is it tricky. So satisfying though!
Long overdue addition to the catalog
This is @Audrey123Talks sightread… How did you do?
Nothing too tricky here, but it's really fun to jam with!
Go to your platform of choice's store and buy this song, go buy it now.
I know vocal leads are controversial but I REALLY enjoy this one, and the classic arrangement minus the lead is there in rhythm for you
Don't worry guitarists, you can play Royal Blood also!
---
Not much tuning variety for the most part in April, save some anomalies… So many alternate arrangements though!
| | | | | | | |
| --- | --- | --- | --- | --- | --- | --- |
| Arrangement | E Standard | Drop D | D Standard | C Standard | C# Standard | Open D |
| Lead | 15 | X | 2 | X | X | X |
| Rhythm | 13 | 1 | 2 | 1 | X | X |
| Bass | 13 | 1 | 1 | 1 | 1 | X |
| Alt. Lead | 2 | 1 | X | 1 | X | X |
| Alt. Rhythm | X | X | X | X | X | 1 |
| Alt. Bass | X | X | X | 1 | X | X |
That's a lot of E Standard!
The album version? Ok…
Which brings us to the question on everyone's mind…
See you next month!