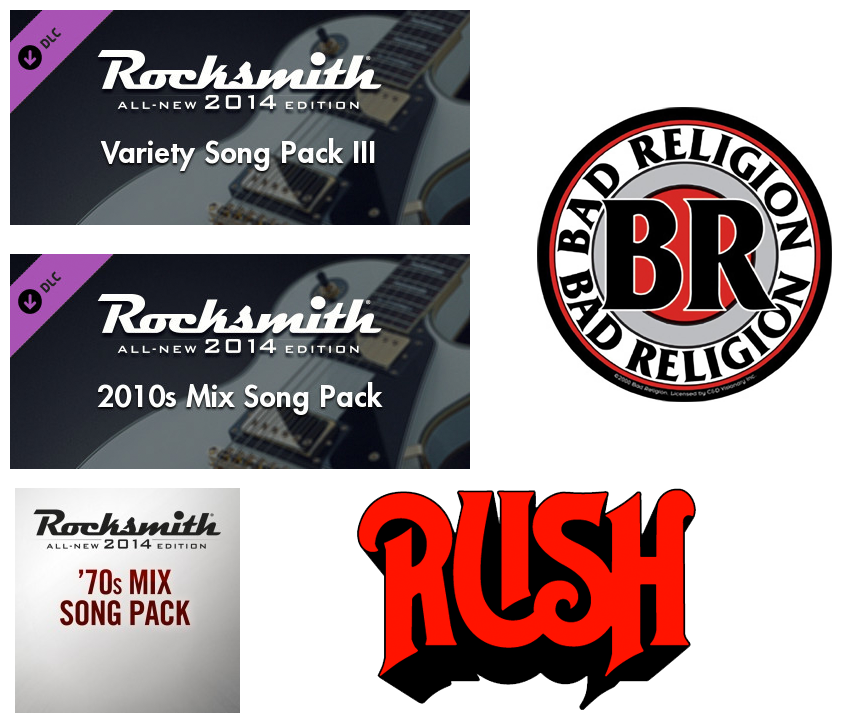 Hello Rocksmith fans!
Welcome to another edition of the DLC Round-Up!
This month @UbisoftStudioSF added 19 songs to the Rocksmith library, bringing the total to 889!
Before we get to August, let's take a look at how you voted for July.
You definitely were happy to see Pixies finally get the song pack they rightfully deserve, followed by the 60s Mix Pack featuring bands like Jefferson Airplane, Shocking Blue, and of course The Doors. Beating out Flyleaf was the 2000s Mix Pack featuring Between The Buried and Me, Against Me! and Panic! At The Disco.
---
August was quite the month for Rocksmith 2014! 
We began the month with a variety pack featuring Joe Satriani, Pantera, Styx, and The Fratellis, next it was time for legendary punk rock outfit Bad Religion to add four songs to the Rocksmith catalog, following that we got a dose of 2010 era music with The Neighbourhood, Hail The Sun, and another track from Fall Out Boy after three years!
Of course you know what came next… The highly awaited return of RUSH with a five pack of highly anticipated songs like Working Man, and Freewill! Closing out the month was a mix of 70s era content from The Clash, George Baker Selection, and Thin Lizzy!
Wow! That's a lot of content.
How was it for bassists though?
---
Groove in D Standard for a bit won't you?
Super fun and approachable
https://www.youtube.com/watch?v=BcnFmk_u2A4
Just assume that all RUSH is amazing on bass, if you are a bassist and didn't buy Rush, not sure what to tell ya
Filthy Phil always brings the bass for ya
A truly iconic picked bass line!
---
Guitarists had some fun in store for them in August as well!
Don't be too discouraged by halsb, he's kind of good
In between the standard power chord and barre chord progression lies a fun yet approachable guitar solo
A very fun song on rhythm paired with some great tones
Audrey doesn't do too bad on this second dose of @HailTheSun
Must own content
9:46 of progressive awesome
Thin Lizzy is fun on guitar also, we promise
---
August was very slanted towards Standard tunings but let's take a look at the breakdown
| | | | |
| --- | --- | --- | --- |
| Arrangement | E Standard | Eb Standard | D Standard |
| Lead | 15 | 1 | 3 |
| Rhythm | 15 | 1 | 3 |
| Bass | 15 | 1 | 3 |
Yep, definitely a good month for people that hate tuning!
---
Which brings us to the monthly question…
https://www.youtube.com/watch?v=4NFX_IfILyE
See you next month!