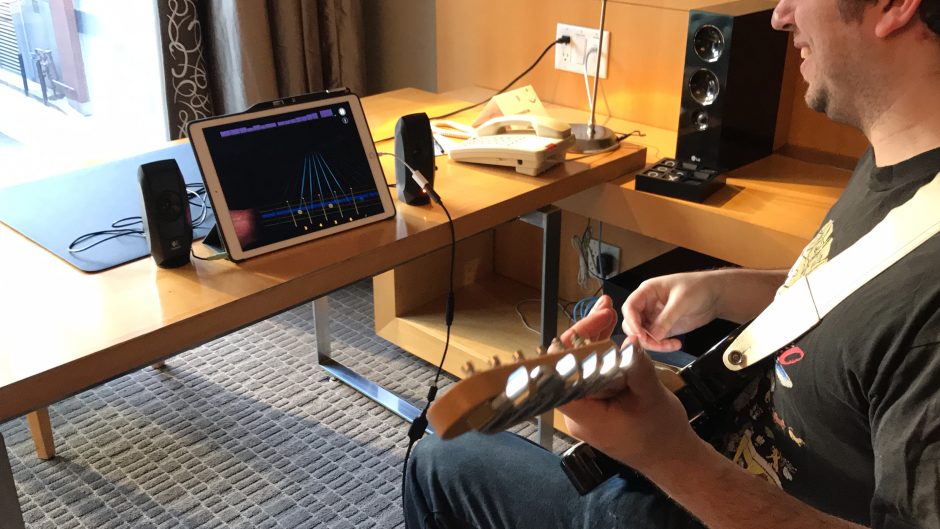 Hello Rocksmith fans!
It's been almost three years since we came across a juicy rumour that Rocksmith was headed to iOS. Since that day, the peripheral was removed off Amazon, and outside of a brief mention by @CrossieRS on a Seether livestream (on February 12th, 2015) there hadn't been much talk regarding it.
Many people assumed it was scrapped completely, but of course @UbisoftStudioSF had other ideas.
If you were paying attention to @Rocksmithgame's twitter yesterday you'd see that Rocksmith iOS, or how it's referred to on the App Store Rocksmith – Learn Guitar Fast, is now available in Canada! Yup, we finally get something first (it's a soft launch, relax).
You may have also noticed, that your's truly, was featured in the only article regarding the soft launch on @MobileSyrup!
Ubisoft is bringing its guitar-learning game Rocksmith to iPad https://t.co/fXht4MuP1P pic.twitter.com/4f0wZ79q3w

— MobileSyrup (@MobileSyrup) May 16, 2017
Let's find out a bit about Rocksmith for iOS, thanks to the awesome FAQ on the Ubisoft Forums!
My comments in green…
---
Rocksmith for iOS is currently only available in Canada and can only be played on an iPad. It will be made available worldwide with support for additional iOS devices at a date to be announced later.
Yup, Maybe even iPod Touch? That would be something eh?
How much does the iOS edition of Rocksmith cost?
The iOS edition of Rocksmith is a free app; it comes with four songs, which are exclusive to Rocksmith. Additional songs are available as in-app purchases.
These four songs are the following:
Three new songs that aren't planned to be released outside of iOS, and Anthony Martinez's "Frère Jacques" is definitely something everyone should try. Hopefully in the future!
How is the iOS edition different from other editions of Rocksmith?
The core experience of learning to play guitar will feel familiar to players of other editions; the proven Rocksmith teaching method remains. Some of the interface has been redesigned to better fit the iOS platform. As time goes on, we plan to expand the functionality of the iOS edition, so you'll see more features appear over time.
Will my iOS device run Rocksmith 2014?
The iOS edition of Rocksmith was designed for devices running iOS 9.0 and later. Older devices or devices running earlier versions of iOS are not supported and not recommended.

Does Rocksmith support iPads with a 30-pin connector?
Yes, as long as that iOS device supports iOS 9.0 or later. Check your device for its OS compatibility.

Does Rocksmith work with my iPhone?
During the period of limited availability, the iOS edition of Rocksmith will only support iPad devices. However, we are planning to add iPhone support when the app is released worldwide.

Does Rocksmith work with my iPod Touch?
During the period of limited availability, the iOS edition of Rocksmith will only support iPad devices. However, we are planning to add iPod Touch support when the app is released worldwide.

Can I play Rocksmith offline or in airplane mode?
The initial setup requires an internet connection, but after that, you can play offline or in airplane mode. You'll also need an internet connection if you'd like to download additional songs, but once downloaded, those can also be learned offline.
This is a huge deal, being able to take Rocksmith on iOS to say a… Campfire 😉

Can I use an acoustic guitar with my iOS device to play Rocksmith?
Yes! The iOS edition of Rocksmith uses the integrated microphone on your iOS device to hear your acoustic guitar. Make sure your guitar is positioned close enough to your device's microphone for best results.

Don't be skeptical, this really works… Trust me

Will my electric guitar work with Rocksmith?
As long as your six-string guitar has a standard ¼" output jack – which is the vast majority of electric guitars out there! – you should have no troubles.

How can I connect my electric guitar to my iOS device?
You can use a Rocksmith Real Tone Cable from the console and PC versions of Rocksmith, and connect it via the Lightning to USB Camera Adapter. Any Real Tone Cable from any edition of Rocksmith will work this way.
The iOS edition of Rocksmith also supports a wide variety of third-party audio interfaces that support Apple's CoreAudio. These interfaces may connect in different ways, including the Lightning port, 30-pin connector, or headphone jack – it will depend on the iOS device you're using. If you already use an audio interface with other software like GarageBand and it supports 48KHz audio (most do), you should be able to use that with the Rocksmith app, too. Make sure your firmware on those devices is up to date – check the manufacturer's website.
Does Rocksmith work with my electric bass?
Yes – all songs include basslines, arranged for standard four-string bass guitars. Connect your bass via a standard ¼" output jack, using the same methods mentioned above for six-string guitars, and you're all set.
I'm still unsure if bass unplugged just next to the iPad microphone works though, will update with findings.


Which input method is best?
For acoustic guitars, the device's microphone works quite well when you use it in a quiet room. For electric instruments, a direct connection with a cable will send the cleanest signal to your iOS device, so we recommend audio interfaces that connect via your device's data port. Headphone-jack adapters work too, but they can sometimes add unwanted noise to the signal, so we suggest using another connection method if at all possible.

Can I use the Real Tone Cable I already own and use with my PC/console version?
Yes. Connect it to your iOS device using the Lightning to USB Camera Adapter, and the iOS edition of Rocksmith will recognize your existing Real Tone Cable for input just fine.

Can I use my electric guitar and amplifier with the iOS device's built-in microphone to play Rocksmith?
We didn't design it with that in mind, but it'd probably work. It won't hurt to try, but for the best results, we'd still recommend something from the list above.

How many songs are included with the Rocksmith app?
The app includes original arrangements and performances of four well-known songs: "Amazing Grace," "When the Saints Go Marching In," "Frère Jacques," and "Ode to Joy." These song arrangements have been specially crafted by the Rocksmith music team to be very approachable for beginners while also offering challenges for more experienced players. Additional songs are available as in-app purchases.

How do I download additional songs?
Select the Shop icon on Rocksmith's main menu to browse the song library; you can buy individual songs or specially priced Song Packs and Bundles. Additional songs, Song Packs, and Bundles will be added to our library on a regular basis.

What is the difference between a Song Pack and a Bundle?
Both will offer you a discount on multiple songs, but there is a subtle difference. Song Pack is a term used in the console and PC editions of Rocksmith, so for consistency, we've made sure a Song Pack features the same songs across all platforms. For instance, The Offspring Song Pack contains "Come Out And Play (Keep 'Em Separated)," "Gone Away," and "Self Esteem" on iOS, just like it does on the Microsoft, Sony, and Steam editions. Some artists might have multiple Song Packs, so you could see "Song Pack I" and "Song Pack II," each containing different songs, or even "Song Pack (I-II)" which contains both for an even greater discount.
Bundles are unique to iOS; they also contain multiple songs for a discounted price, but the songs they offer don't align with the Song Pack collections you'll find on all other platforms.
Example would be Weezer Bundle, which includes Say It Ain't So (a Rocksmith 2014 on disc track)
You'll always be able to see a track list of what's included in any Song Pack or Bundle before you buy it.

If I buy a few singles from an artist that has a Song Pack or Bundle, can I upgrade to the full Song Pack or Bundle for a discounted rate?
Sorry, no – each item in the store is a separate purchase, so there's no way to credit earlier purchases.

If I buy songs on iOS, do I also get to use them on other platforms?
No, sorry – iOS Song Packs, Bundles and singles only work with the iOS edition of Rocksmith.

Will the songs that come with the iOS edition appear in other editions of Rocksmith?
The Rocksmith-exclusive version of Beethoven's "Ode to Joy" is also available in the Bachsmith II song pack for PC and consoles. We do not have plans to release the other three songs in other editions at this time.

🙁

If I bought additional songs for one of the console or PC versions of Rocksmith, can I use those with the iOS app?
Sorry, no. Apple's App Store is independent of Microsoft, Sony, and Valve's businesses, so they do not honor purchases you've made from other digital stores. Here's an analogy: McDonald's and Burger King might both serve Coca-Cola, but you can't go to Burger King and get a refill for your McDonald's cup. It's a bit like that.
You saw this coming right? This is APPLE we are talking about. Your DLC doesn't transfer, this is a whole new platform.

Will the full song library from the console and PC editions of Rocksmith be released for mobile?
We'll bring out as much as we can, but since the mobile edition requires a different licensing agreement some tracks may not be available. We are constantly adding new songs to the mobile library; be sure to check back again and see what's new. You can also suggest songs to be added in the future at our website, Rocksmith.com.

What is a Rocksmith ID?
Your Rocksmith ID (RSID) is your player profile – your identity within the app. You'll be asked to create one the first time you use Rocksmith. It will be linked to your Ubisoft account. In addition to tracking your progress, your RSID is used to keep track of which songs you own.
Very cool, good idea. This solves the "Always On" problem that could have made this app a whole lot less "killer"

Do I have to create a Rocksmith ID to use the app?
No, but you won't be able to purchase additional songs without one. If you decide to create a Rocksmith ID after playing for a bit, your progress up to that point will carry forward to your RSID.
---
One thing to note is that this isn't Rocksmith Remastered, therefore a lot of the features (difficulty ones specifically) aren't present but due to the iPad interface, using riff repeater is now even easier than before…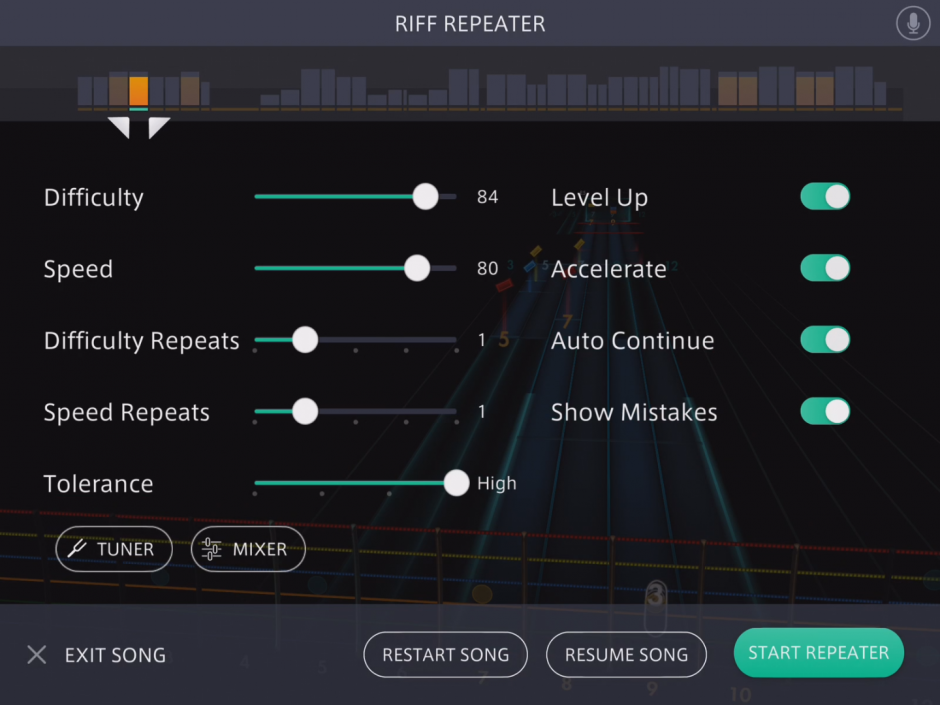 Also, it should also be clear that this version of the app primarily focuses on the Learn a Song component, therefore there is no Session Mode, Tone Designer, or Guitarcade. Whether these are added in future updates is not confirmed or something they are talking about at the moment.
---
Here are some more screenshots to look over…
You'll notice that we have external speakers hooked up. I would recommend this for the best experience but I would also say (this is an assumption) Bluetooth speakers will introduce extra latency and I would not recommend trying that, I found that out quite quickly when I used mine for Guitar Hero Live (iOS).
---
Are you excited for iOS Rocksmith or is buying content on a new platform not something that appeals to you? Have you tried it already, tell us what you think! Should we track the DLC releases on here? Let us know!