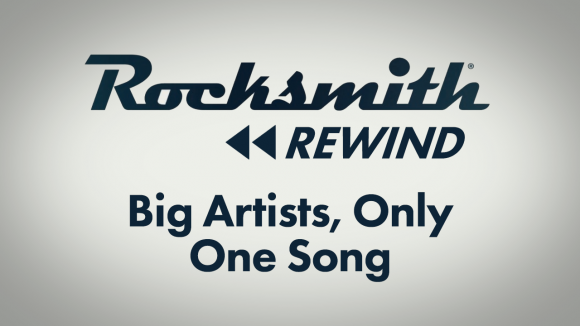 We've had some massively massive artists in game. And some of those artists were lucky enough to receive multiple packs, or even mega ones! But there's a lonely bunch of sadly only ever managed to sneak one song in to the Rocksmith DLC library. What songs were they, and what other songs could have joined them to help form a nice, neat pack? Let's take a look!
Only The Good Die Young – Billy Joel (Variety Pack XIII)
The Piano Man himself! This one is a great strummer, and has a good bassline thrown in too. Billy Joel has some really (and surprisingly?) guitar heavy songs under his belt and it'd be a shame to not see more of them.
Suggestions: It's Still Rock And Roll To Me and Big Shot
Saturday Night's Alright (For Fighting) – Elton John (Variety Pack XII)
What is it with these piano players also having superb guitar in their songs? This one is no exception, and with a must-play bassline! Elton John is one of the world's biggest sellers who surely deserves a bigger place in game?
Suggestions: The Bitch Is Back and Crocodile Rock
For The Love of God – Steve Vai (Love Singles Song Pack)
Steve Vai is consistently said to be one of the greatest guitar players out there. A man of that recognition should have albums in game! Sure, the majority of us would likely have to take years of learning them to pass in Score Attack but it's good to have a goal in life!
Suggestions: Tender Surrender and The Attitude Song
Mind Eraser, No Chaser – Them Crooked Vultures (RS2014 Launch Singles)
Them Crooked Vultures are a super group that mixes up Josh Homme (QotSA), Dave Grohl (Foo Fighters) and John Paul Jones (Led Zeppelin). What a line-up! They put together an album of some great songs then…didn't do much afterwards. Let's honour what was, and what could have been, with more of their songs!
Suggestions: New Fang and Dead End Friends
Elephant – Tame Impala (RS2014 Launch Singles)
Psychedelic rock weirdness, Tame Impala have done pretty well since their 2010 debut album. I don't take psychedelics myself so I have to rely on more of these songs being in Rocksmith.
Suggestions: The Less I Know The Better and Feels Like We Only Go Backwards
There are plenty more artists who sadly never saw a DLC return, but we can be happy we had them at all! Tears for Fears (Everybody Wants To Rule The World), The Hives (Hate To Say I Told You So), James Brown (Living in America) and Philip Sayce (Out Of My Mind) are just some more artists who could only afford a single ticket to Rocksmith.
Are there any artists you were itching to have a reappearance of? Let us know!