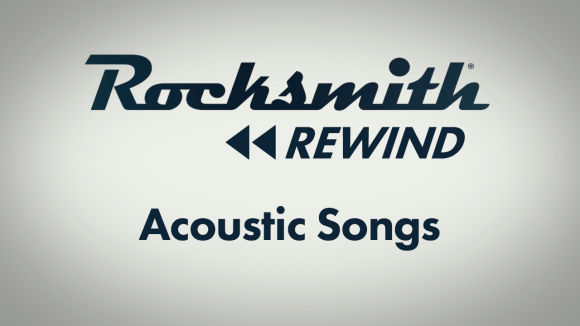 Hello Rocksmith people!
I'm back with another look at the DLC of the past – this time focusing on some songs that are great for those times when acoustic > electric.
After realizing I was neglecting a side of me that really just wanted to learn some simple, recognizable and fun acoustic songs, I went out and bought one to clutter up my already guitar-laden flat. When I got home, I sat down and scrolled through my DLC list to see what songs would be fun to annoy my neighbours with. Since then, I've found there are loads of fun acoustic songs in the library! I made a video looking at 5 of my current favourite songs to play on Rocksmith with an acoustic guitar. For those who don't fancy watching, I put a little summary below the video.
Redemption Song – Bob Marley and the Wailers (Bob Marley and the Wailers Song Pack)
A very gentle song, but not just all chords! There's a nice little single note intro which shouldn't be too hard to get down. Otherwise you're pretty much looking at the basic chord shapes.
Father and Son – Cat Stevens (Cat Stevens Song Pack)
More complex than just your basic chords, with some chords even using finger positions you may not be used to. But, if you can get over that, it's a great song to learn.
Breakfast at Tiffany's – Deep Blue Something (Variety Song Pack XX)
You get fast strumming! You get an easy chord structure! You get to annoy your friends with that catchy one-hit wonder! What more could you ask for?
Big Yellow Taxi – Joni Mitchell (Joni Mitchell Song Pack)
You'll be tuning to Open D and putting on a capo for this one to get the authentic Joni experience (or just do Open E on Lead). But it's worth it, I assure you. Bonus points for hitting the high notes in the "PleeeeeeeeEEEaaaaAAssEEE" part.
Amie – Pure Prairie League (Variety Song Pack XIV)
You gotta have some country in an acoustic song article, don't you? For me this is 4 minutes of acoustic bliss! I can never make my mind up on whether to play the Rhythm or Lead chart, they're just so much fun. Don't miss the intro and the solo on the Lead chart though!
---
Have you tried using an acoustic guitar in Rocksmith with Microphone mode? Are there any strummers you think people should know about? Let us know, and see you next time!