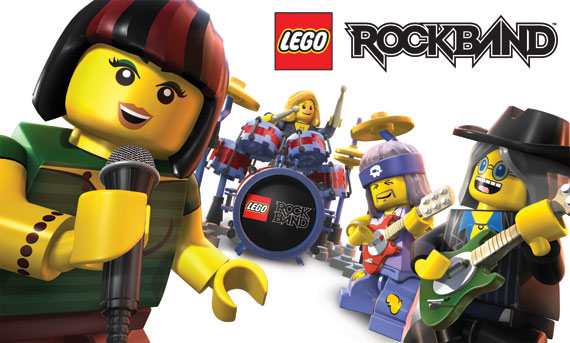 On the exact same day that Guitar Hero took a stab at a younger audience with Band Hero – November 3rd, 2009 – Harmonix launched its corresponding attempt in collaboration with Lego video game developer TT Fusion: a title as bizarre, and ostensibly kid-friendly, as it sounds. Incorporating the stud-collecting mechanic (meaning tiny lego pieces, just to clarify) from Traveller's Tales popular Lego video game adventure series, everything about this iteration of Rock Band was tailored with that younger audience and Lego's audience in mind: Studs are collected by successfully completing songs which can be used to unlock gear and venues. Also similar to Band Hero, the game had the lego-ified likenesses of several musical celebrities including Queen's Freddie Mercury and Brian May.
Unlike the rest of the Rock Band series, the only downloadable songs that could be used with the game were those determined to be "family-friendly," keeping with its appeal to kids. Lastly, the game came with a "Super Easy" mode, which is almost the same as easy mode, only any button could be pressed along with the corresponding note, with the player only needing to strum in time.
Of the 45 songs in Lego Rock Band, currently 11 are playable in Rocksmith for a total of 24%. This number is slightly improved from Band Hero's 18%, but still easily ranks the lowest among the Rock Band series, easily beating the previous lowest percentage of Rock Band 2's 34%.
| Artist | Song | Date in Rocksmith |
| --- | --- | --- |
| The All-American Rejects | Swing, Swing | N/A |
| The Automatic | Monster | N/A |
| blink-182 | Aliens Exist | N/A |
| Blur | Song 2 | 10/18/2011 |
| Bon Jovi | You Give Love a Bad Name | 12/02/2014 |
| Boys Like Girls | Thunder | N/A |
| Bryan Adams | Summer of '69 | N/A |
| Carl Douglas | Kung Fu Fighting | N/A |
| The Coral | Dreaming of You | N/A |
| Counting Crows | Accidentally in Love | N/A |
| David Bowie | Let's Dance | N/A |
| Elton John | Crocodile Rock | N/A |
| Europe | The Final Countdown | 09/18/2012 |
| Everlife | Real Wild Child | N/A |
| Foo Fighters | Breakout | N/A |
| Good Charlotte | Girls & Boys | 06/07/2016 |
| The Hives | Tick Tick Boom | N/A |
| Iggy Pop | The Passenger | N/A |
| Incubus | Dig | N/A |
| The Jackson 5 | I Want You Back | 10/04/2016 |
| The Jimi Hendrix Experience | Fire | 12/16/2014 |
| Kaiser Chiefs | Ruby | 03/13/2018 |
| Katrina & the Waves | Walking on Sunshine | N/A |
| The Kooks | Naive | N/A |
| KoRn | Word Up! | N/A |
| KT Tunstall | Suddenly I See | 05/01/2018 |
| Lostprophets | Rooftops (A Liberation Broadcast) | N/A |
| P!nk | So What | N/A |
| The Police | Every Little Thing She Does Is Magic | N/A |
| The Primitives | Crash | N/A |
| Queen | We Are the Champions | 10/22/2013 |
| Queen | We Will Rock You | 11/06/2018 |
| Rascal Flatts | Life is a Highway | N/A |
| Ray Parker Jr. | Ghostbusters | N/A |
| Razorlight | Stumble and Fall | N/A |
| Spin Doctors | Two Princes | 04/22/2014 |
| Spinal Tap | Short and Sweet | N/A |
| Steve Harley and Cockney Rebel | Make Me Smile (Come Up and See Me) | N/A |
| Sum 41 | In Too Deep | 06/03/2014 |
| Supergrass | Grace | N/A |
| T. Rex | Ride a White Swan | N/A |
| Tom Petty | Free Fallin' | 11/11/2014 |
| Vampire Weekend | A-Punk | N/A |
| We the Kings | Check Yes Juliet | N/A |
| The Zutons | Valerie | N/A |
In spite of its smaller comparative setlist size, we've compiled a list of ten songs from the game we'd like to see come to Rocksmith eventually:
Elton John – Crocodile Rock
https://www.youtube.com/watch?v=SgHp71-Kf70
Some of you may better know this song by the Baha Men cover that played at the end of The Crocodile Hunter movie: While not exactly among Elton John's most guitar-driven songs, especially compared to the likes of SNAFF, the varied, driving bassline and the arpeggios during the choruses should provide some fun challenge for most players. Plus, who could possibly resist singing along to that chorus?
Ray Parker Jr. – Ghostbusters
I can tell already, you probably think I'm going to bring up a certain current subject related to Ghostbusters; whatever you might be thinking of, this isn't the place for that right now. Instead, I want us to just appreciate the timeless, gloriously cheesy 1980s-ness of this song and its classic corresponding movie.
Katrina and the Waves – Walking on Sunshine
"I'm walking on sunshine!" she says; while walking through the grayest, most drab city skyline.
One of my all-time biggest guilty pleasure songs; its upbeat, bright, cheerful mood and melody should prove to be a hit among the Rocksmith audience, and it's chordy structure and lack of major solos won't make it too frustrating to master.
Bryan Adams – Summer of '69
Ditto the above from Walking on Sunshine for this one: who doesn't like a little upbeat, sentimental romantic tune every now and then? Especially from the likes of rock royalty like Bryan Adams. This pick is for Elliott and all of our other Canadian viewers.
Iggy Pop – The Passenger
With the recent arrival of classic punk from the likes of The Clash, The Misfits, and Bad Religion, it would be an appropriate time to experience one of the biggest pioneers of the genre.
The Hives – Tick Tick Boom
It's been quite some time since we've seen anything from the Hives on Rocksmith; sure, Tick Tick Boom might sound pretty similar to HTSITYS from Rocksmith 2014's launch DLC, and it is pretty much just power chords, but there's always a place for this music for the beginning players.
Carl Douglas – Kung Fu Fighting
If there were ever a kid-friendly representation of what 70's porn guitar sounds like, this one should take the cake; a kickin' bassline and funky guitar chords will provide a nice challenge for most players.
Spinal Tap – Short and Sweet
The list of guitarists featured on this song should be reason enough to include in in Rocksmith: Steve Vai, John Mayer, Phil Collen from Def Leppard, and several others, each taking a turn to solo on this ironically tongue-in-cheek-named Spinal Tap song.
The Police – Every Little Thing She Does is Magic
More of Andy's superb jazzy arpeggios would be welcome, and it's been a long while since we've seen anything from The Police in Rocksmith anyway.
The Primitives – Crash
Take a step back from this song's bubblegum-pop feel and you'll find some challenging guitar arpeggios.
---
There's some of our picks, what songs would you like to see from Lego Rock Band make it into Rocksmith some day? Let us know, and we promise that the next Setlist Sunday won't be so far off like last time!