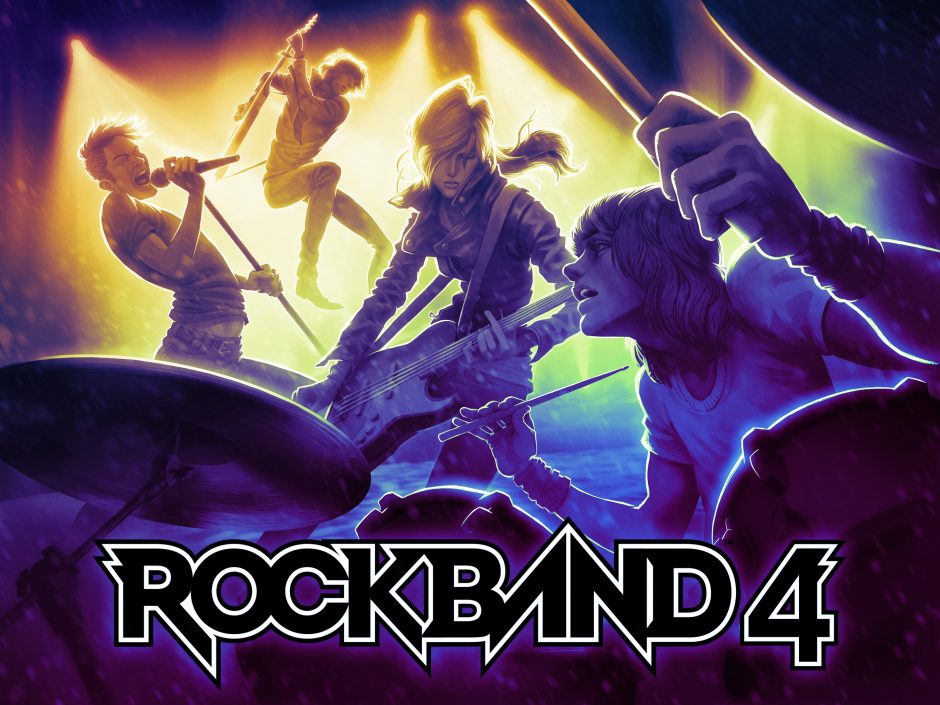 Much like this series itself, it looked like the Rock Band franchise wasn't going to come back following Rock Band 3 (not counting the spin-off title Rock Band Blitz). With the announcement that DLC was going to be ending in 2013, then with the next generation of consoles being released, all signs pointed to the end of the franchise. All that changed, however, when in January of 2015 three surprise DLC songs were released for Rock Band 3. Fuelling speculation that another game was in the works, this release was followed up by two more releases over the next two months, which culminated in the long awaited announcement of Rock Band 4!
Returning from Rock Band 3 were the Pro Drums and vocal harmonies, with ALL legacy DLC being updated to have harmonies now. In addition, freestyle features were added to songs, including freestyle vocals, which allow vocalists to sing any note as long as it's in key, and freestyle guitar solos, which replace traditional guitar solos, allowing players to play whatever they want. Controversially, however, the keyboard and Pro Guitar peripherals, as well as online multiplayer, were no longer supported due to an unfortunate lack of player base from their original implementation.
A major thing that Rock Band 4 had done was allow the usage of old instruments (either natively on PS4 or with an adapter on Xbox One), as well as the usage of all your previously purchased non-RBN DLC, including delisted content, provided you're on the same family of consoles.
At launch, reaction to Rock Band 4 was divisive, to say the least. There are those online that are heavily critical of the game for removing keys and pro guitar, stripping down the character creator, the lack of online multiplayer, and the DLC output being smaller and having more of a popular song focus/lack of obscure devil tier metal songs. On the other side, however, you have praise for the game, especially following its updates, even going so far as to say it's one of the strongest entries in the series.
The nature of Rock Band 4 was that of an ever-expanding platform, and this was realized in 2016 with the release of the Rock Band Rivals expansion pack. This brought new features to the game like Rivals mode, which is a competitive crew based mode where there is a challenge every week (play songs from the 90s, play metal songs, play songs that start with the letter C, ect.) and crews compete for XP from playing songs, as well as score on three "spotlight" songs. Rivals also added online multiplayer back to the series, badges for completing challenges, free songs included in updates, and many other features which are still being added.
The Rivals expansion has so far added 24 songs to Rock Band 4, all from local Boston indie artists, as well as a song from fictional hair metal band Skratch'N Snyf. This brings the total number of songs in Rock Band 4 up to 89, making it the largest setlist of any Rock Band title.
The removal of keys put the focus of the setlist back on to the core instruments with songs like Violent Shiver and Light the Fuse, as well as party hits like Uptown Funk and Your Love. Many songs were from high profile artists like Arctic Monkeys, Aerosmith, Soundgarden, and Rush, however they were less well known (but fun to play) songs.
Notably, Rock Band 4 also featured a number of "white whale" artists who had either never appeared in a rhythm game before, or were considered to have been so turned off the experience that we'd never see them again. Artists like Elvis Presley, U2, and Van Halen. The total size of the base setlist was 65 songs, which makes it the second smallest main setlist in franchise history, just above the original Rock Band.
Of the 65 songs in Rock Band 4, 15 are available in Rocksmith Remastered for a grand total of 23% putting it by far the lowest of any main series Rock Band title.
| Artist | Song | Date in Rocksmith |
| --- | --- | --- |
| .38 Special | Caught Up in You | 01/26/2016 |
| 4 Non Blondes | What's Up? | N/A |
| Aerosmith | Toys in the Attic | N/A |
| Arctic Monkeys | Arabella | N/A |
| Avenged Sevenfold | Hail to the King | N/A |
| Benjamin Booker | Violent Shiver | N/A |
| The Black Keys | Fever | N/A |
| The Both | Milwaukee | N/A |
| Brad Paisley ft. Keith Urban | Start a Band | N/A |
| Brand Carlile | Mainstream Kid | N/A |
| Cake | Short Skirt/Long Jacket | 05/20/2014 |
| The Cure | Friday, I'm in Love | 05/26/2015 |
| Dark Wheels | V-Bomb | N/A |
| Disturbed | Prayer | N/A |
| Dream Theater | Metropolis - Part 1 "The Miracle and the Sleeper" | 09/27/2016 |
| Duck & Cover | Knock 'Em Down | N/A |
| Eddie Japan | Albert | N/A |
| Elvis Presley | Suspicious Minds | 10/04/2016 |
| Fall Out Boy | Centuries | N/A |
| Fleetwood Mac | You Make Loving Fun | N/A |
| Foo Fighters | The Feat and the Famine | N/A |
| Gary Clark Jr. | Ain't Messin' 'Round | N/A |
| Gin Blossoms | Follow You Down | N/A |
| Grouplove | Tongue Tied | N/A |
| Halestorm | I Miss the Misery | 11/21/2017 |
| Heart | Kick It Out | N/A |
| Heaven's Basement | I Am Electric | N/A |
| Imagine Dragons | I Bet My Life | N/A |
| Jack White | Lazaretto | N/A |
| Jeff Allen ft. Noelle LeBlanc & Naoko Takamoto | Recession | N/A |
| Johnny Blazes and the Pretty Boys | Cold Clear Light | N/A |
| Judas Priest | Halls of Valhalla | N/A |
| The Killers | Somebody Told Me | 10/28/2014 |
| Lightning Bolt | Dream Genie | N/A |
| Little Big Town | Little White Church | N/A |
| Live | All Over You | 6/13/2017 |
| Lucius | Turn It Around | N/A |
| Lynyrd Skynyrd | That Smell | N/A |
| Mark Ronson ft. Bruno Mars | Uptown Funk | N/A |
| The Mighty Mighty Bosstones | The Impression That I Get | N/A |
| Mumford & Sons | The Wolf | N/A |
| The Outfield | Your Love | 04/10/2018 |
| Ozzy Osbourne | Miracle Man | N/A |
| Paramore | Still Into You | 01/09/2018 |
| The Protomen | Light Up the Night | N/A |
| Queens of the Stone Age | My God is the Sun | 10/22/2013 |
| R.E.M. | The One I Love | 02/04/2014 |
| Rick Derringer | Rock and Roll, Hoochie Koo | 01/20/2015 |
| Rush | A Passage to Bangkok | N/A |
| Scandal | The Warrior | N/A |
| Scorpions | No One Like You * | N/A |
| Slydigs | Light the Fuse | N/A |
| Soul Remnants | Dead Black (Heart of Ice) | N/A |
| Soundgarden | Superunknown | N/A |
| Spin Doctors | Little Miss Can't Be Wrong | 7/18/2017 |
| St. Vincent | Birth in Reverse | N/A |
| System of a Down | Spiders | N/A |
| Tijuana Sweetheart | Pistol Whipped | N/A |
| U2 | Cedarwood Road | N/A |
| U2 | I Will Follow | N/A |
| Van Halen | Panama | N/A |
| Van Morrison | Brown Eyed Girl | N/A |
| The Warning | Free Falling | N/A |
| White Denim | At Night in Dreams | N/A |
| The Who | The Seeker | 12/03/2013 |
* Indicates a re-recorded version of the track.
Despite the smaller setlist size, Rock Band 4 is still full of amazing tracks that we'd love to see show up in Rocksmith. Here's just 10 of them!
Avenged Sevenfold – Hail to the King
It's strange to me that despite how seemingly huge A7X are, we only ever received one pack in Rocksmith. When we eventually get pack #2, hopefully Hail to the King is front and centre. With a blistering main riff that never lets up, this is classic Avenged Sevenfold and deserves to find its way to Rocksmith soon!
Grouplove – Tongue Tied
https://www.youtube.com/watch?v=lUa9dDlJePA
A fun, upbeat, jumpy indie pop song that would be great for players of any level.
Jack White – Lazaretto
The fuzzed out bassline alone is enough to make this one of my most wanted songs in Rocksmith. When you add on some truly stellar guitar work from the one and only Jack White, you have a recipe for something truly great!
Lightning Bolt – Dream Genie
Arguably the most divisive song to ever appear on-disc in Rock Band, I'm personally in the camp of "Dream Genie is amazing" and I actually think it'd translate better in to Rocksmith than it did to Rock Band. Rocksmith currently features no noise rock, and while technically this song has no guitar (it's just bass and drums), Rocksmith have never been ones to shy away from alt-charting. Besides, there's so much that sounds like a guitar anyway. Just picture the amazing tones we could get from a song like this! What else can I say?
Lynyrd Skynyrd – That Smell
An iconic southern rock jam. We need more Skynyrd in the game, and this would be the best place to start on that!
The Mighty Mighty Bosstones – The Impression That I Get
When compiling this article, I had to do a double take when I found out we didn't already have this song in Rocksmith. One of the most iconic third way ska songs of all time, The Impression That I Get is a party classic that is sorely missing from the library.
Scorpions – No One Like You
How has Rocksmith never gotten anything from Scorpions? The group is responsible for some of the most iconic riffs in rock music, and No One Like You is no exception. Chocked to the brim with tasty riffs and amazing solos, this would be pure hair metal glory!
St. Vincent – Birth in Reverse
Annie Clark is a modern day guitar great. It's as simple as that. Birth in Reverse features a lot of really interesting guitar work going on wrapped up in an art-rock package that may take some people off guard.
Van Morrison – Brown Eyed Girl
Another one of those songs that just feels like it's been in Rocksmith forever. A true rock classic with a great laid back vibe that'd fit in great in the tracklist.
White Denim – At Night in Dreams
Just a cracking modern blues song that'd give your fingers some great exercise.
---
What songs would you want to see end up on Rocksmith from this excellent @RockBand setlist? Let us know!