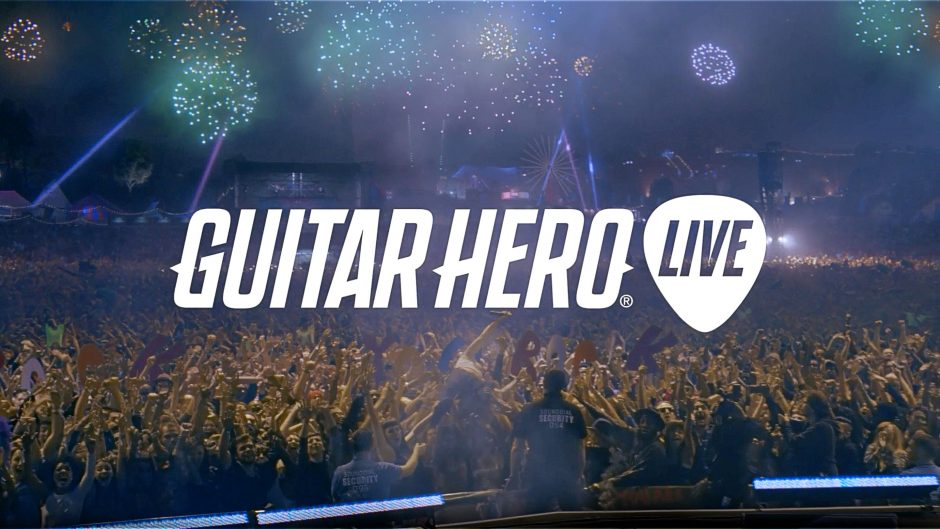 Guitar Hero, for all intents and purposes, was finished in 2011. It had released its final DLC pack in April of that year. Then, thee years later, all its DLC was pulled from the store. There wouldn't really be any news for a while until leaked details from the proposed "Guitar Hero 7" surfaced. Among the news there was that there was supposedly going to be a sixth button added to the guitar and that there was going to be a focus on microtransactions. Ultimately, this game never saw the light of day and the Guitar Hero brand remained dormant.
However, with a Rock Band comeback on the horizon, it stood to reason that Guitar Hero wouldn't be too far behind. Fast forward to April 2015 and Guitar Hero Live was officially announced.
Rather than the back to basics approach of Rock Band 4, Guitar Hero Live radically changed up the core of Guitar Hero by altering the layout of the buttons. Gone are the days of 5 buttons, instead being replaced by a 6-button layout featuring two rows of three, and drums and bass were completely dropped. It also did away with the animated graphics of the past and replaced the visuals with a first-person FMV display. The concept of DLC was completely done away with as well, instead additional songs were delivered via the GHTV service, a streaming music video platform.
Support for GHTV was initially strong, with 100 songs being available at launch, and an average of 9 songs being added to the platform every week through weekly "Premium Shows". This number slowly dwindled and eventually went to 3 songs per month, however and, save for a single song released in April 2018, completely stopped in June 2017. In June 2018, Activision pulled the Guitar Hero Live app from the iTunes store, and announced that they were going to turn off the servers in December 2018, effectively killing the service and removing access to all the songs.
The soundtrack for Guitar Hero Live is the smallest on-disc setlist of any main series Guitar Hero game (if the bonus songs from the early games are counted), likely due to the cost of shooting two complete FMV performances of every song. This was made up for, however, with the GHTV service (which features a likely final count of 520 songs, unless anything else squeaks through the system before it's shut down). There was also a large focus on modern songs, with only 11 of the 42 on-disc songs coming from before the year 2010 and only three of those being from before the 2000s.
Of the 42 songs in Guitar Hero Live, 16 are currently playable in Rocksmith Remastered, for a total 38%, putting it substantially above Rock Band 4's 15%, and slightly ahead of Guitar Hero's last outing.
| Artist | Song | Date in Rocksmith |
| --- | --- | --- |
| The 1975 | Girls | N/A |
| 30 Seconds to Mars | The Kill | 01/12/2016 |
| Arctic Monkeys | R U Mine? | 10/22/2013 |
| Avril Lavigne | Here's to Never Growing Up | N/A |
| Biffy Clyro | Victory Over the Sun | N/A |
| The Black Keys | Gold on the Ceiling | 12/27/2011 |
| blink-182 | The Rock Show | 01/17/2017 |
| Bring Me the Horizon | Shadow Moses | N/A |
| Deap Vally | Lies | N/A |
| Elbow | Grounds for Divorce | N/A |
| Eminem | Berzerk | N/A |
| Fall Out Boy | My Songs Know What You Did in the Dark (Light Em Up) | 08/16/2016 |
| The Gaslight Anthem | 45 | 08/08/2017 |
| Good Charlotte | The Anthem | 06/07/2017 |
| Halestorm | Love Bites (So Do I) | 03/11/2014 |
| Imagine Dragons | Demons | 03/22/2016 |
| Jack White | Lazaretto | N/A |
| Kasabian | Club Foot | N/A |
| Katy Perry | Waking Up in Vegas | N/A |
| The Killers | When You Were Young | 10/28/2014 |
| Linkin Park | Wastelands | N/A |
| The Lumineers | Ho Hey | 10/22/2013 |
| Mumford & Sons | I Will Wait | 01/23/2018 |
| Neon Trees | Everybody Talks | N/A |
| Of Mice & Men | Bones Exposed | N/A |
| Of Monsters and Men | Mountain Sound | N/A |
| OneRepublic | Counting Stars | 01/24/2017 |
| Paramore | Now | 10/22/2013 |
| Pearl Jam | Mind Your Manners | N/A |
| Pierce the Veil | King for a Day (ft. Kellin Quinn) | N/A |
| Queen | Tie Your Mother Down | 11/06/2018 |
| Rihanna | California King Bed | N/A |
| Rise Against | Tragedy + Time | N/A |
| Rival Sons | Keep on Swinging | N/A |
| The Rolling Stones | Paint It Black | 10/22/2013 |
| Royal Blood | Little Monster | 04/25/2017 |
| Skrillex | Bangarang (ft. Sirah) | N/A |
| Soundgarden | Been Away Too Long | N/A |
| The Who | Won't Get Fooled Again | N/A |
| Wolfmother | Sundial | N/A |
| You Me at Six | Lived a Lie | N/A |
Guitar Hero Live has one of the most underrated setlists in the franchise and we could definitely find 10 songs we want to see in Rocksmith!
The 1975 – Girls
The 1975 are one of the coolest new bands out right now, and there's a lot of really fun sounding guitar going on in all their songs.
Bring Me the Horizon – Shadow Moses
We already have one BMTH song in Rocksmith, but this is the true memey banger that we should have in the library… THIS IS SANDPIT TURTLE!
Elbow – Grounds for Divoirce
Just a really nice and chunky modern bluesy song with some great guitar stuff being played.
Kasabian – Club Foot
I mean, just listen to that bass.
Neon Trees – Everybody Talks
A really upbeat and bouncing indie rock song that I genuinely thought we've had in Rocksmith for years.
Of Mice & Men – Bones Exposed
Bones Exposed hits hard with quick chord changes and a hell of a growling voice for one powerful metal track that keeps you coming back for more! You know that chorus is stuck in your head…
Queen – Tie Your Mother Down
I really hope that when we finally get Queen Song Pack II, it contains one of the hardest rocking songs in their catalogue. Top to bottom, Tie Your Mother Down is just filled with great riffs.
Rihanna – California King Bed
Haters gonna hate. Nuno Bettencourt does the guitar on this song, and for that reason alone it'd make a great Rocksmith pick.
Rival Sons – Keep on Swinging
Keep on Swinging is a fun little indie track with a swinging beat and a great main riff to keep you invested the whole song.
Skrillex – Bangarang
One of the most fun charts in Guitar Hero Live. Fight me. Besides, it's not like Rocksmith songs need guitar to be fun.
---
There's our picks, what songs would you like to see from Guitar Hero Live end up in Rocksmith Remastered? Let us know in the comments!