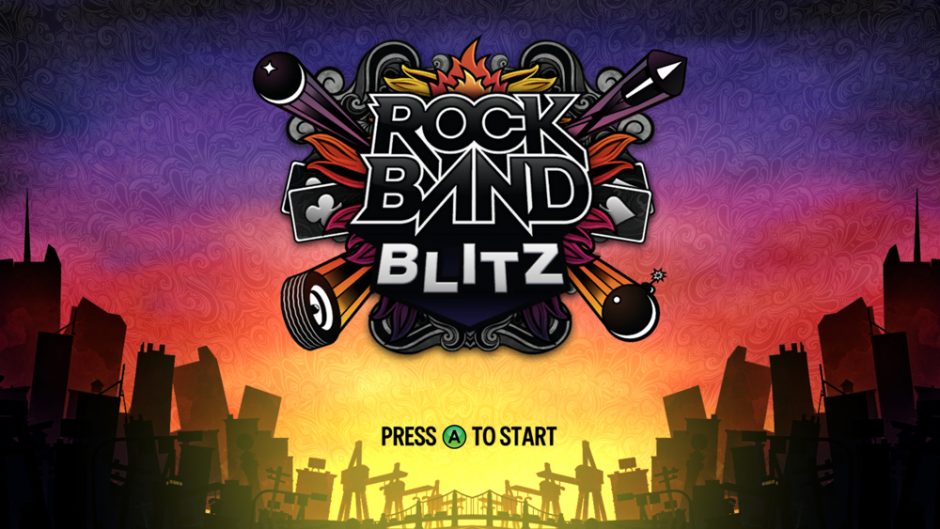 Rhythm games were in a weird state in 2012. Guitar Hero had announced in early 2011 that they were ending the Hero franchise and pretty much the only new release was a guitar teaching tool from Ubisoft. Rock Band, however, was still going strong, and in August of 2012 they released Rock Band Blitz.
Rather than the traditional gameplay featured in the Rock Band series, Blitz was heavily inspired by previous Harmonix titles FreQuency and Amplitude, as well as games like Rock Band Unplugged. Each instrument would be distilled down to two notes that you'd play on a controller, with all the instruments being active simultaneously. Each instrument could be levelled up three times, and if you managed to have all of them fully levelled by the time you got to the checkpoint gate at the next section, then the maximum level would be increased by three.
Completing songs would earn you coins, which you could then use to buy single use power-ups that would help out with your scores. These include things like "Flame Notes" which would make certain notes give big score bonuses as long as you kept hitting them in a row, "Jackpot" which would make everything worth triple points for a limited time but if you missed while it was still active you'd get none, and "Bottle Rocket" which would fire a missile at notes down the highway and collect the points as if you hit them.
Playing songs in Blitz wasn't the only way to earn coins. There was also a Rock Band World Facebook app, which connected to Blitz and featured lots of unique goals like scavenger hunts which could be completed by finding mystery songs, community goals which would involve getting a set number of stars on a specific genre or artist with everyone contributing to it, and other goals, like getting a certain number points on The Wicker Man using flame notes as your power-up.
In addition to the Facebook app, coins could also be earned through the competitive Score Wars mode. The way these worked was that you'd play a song, then send a challenge out to your friend who would try to beat your score.
Reception to the game was overwhelmingly positive, with heavy praise being given both to the gameplay and to the fact that every single song in the Rock Band library would work, which breathed a lot of new life in to the library. The arcadey gameplay is still beloved by fans to this day, with lots of people wishing that Blitz would come to Xbox One through backwards compatibility, or that a Blitz mode would be featured in Rock Band 4.
The core setlist is on the smaller side, especially compared to what we've come to be used to, featuring only 25 songs. That said, this was a $15 downloadable game and featured support for the entire Rock Band library (save for the songs from Rock Band 3, which did not have an export at the time). Musically, there was a focus on more upbeat and modern pop-rock songs since those worked the best with the Blitz format. Songs like Jungle Boogie and Moves Like Jagger weren't the best to play in Rock Band 3, but in Blitz they were an absolute blast.
If also featured the return of Give It Away by Red Hot Chili Peppers and Spoonman by Soundgarden, which were both previously featured in Rock Band 2, but were not included in the export.
Six of the songs from Blitz also received Pro-Guitar/Bass upgrades. They are as follows:
Iron Maiden – The Wicker Man
Kool & the Gang – Jungle Boogie
Living Colour – Cult of Personality
Red Hot Chili Peppers – Give It Away
Rick Springfield – Jessie's Girl
Soundgarden – Spoonman
Of the 25 songs featured in Blitz, 5 are playable in Rocksmith Remastered for a total of 20%. This makes it the lowest percentage of the Rock Band series, beating out LEGO Rock Band's previous record of 22%.
| Artist | Song | Date in Rocksmith |
| --- | --- | --- |
| All-American Rejects | Kids in the Street | N/A |
| Avenged Sevenfold | So Far Away | N/A |
| Barenaked Ladies | One Week | N/A |
| blink-182 | Always | 02/19/2019 |
| Collective Soul | Shine * | 03/15/2016 |
| Elton John | I'm Still Standing | N/A |
| Fall Out Boy | A Little Less Sixteen Candles, A Little More "Touch Me" | N/A |
| Foo Fighters | These Days | N/A |
| Foster the People | Pumped Up Kicks | 04/03/2012 |
| fun. ft. Janelle Monáe | We Are Young | N/A |
| Great White | Once Bitten, Twice Shy | 01/28/2020 |
| Iron Maiden | The Wicker Man | N/A |
| Kelly Clarkson | Stronger | N/A |
| Kool & the Gang | Jungle Boogie | N/A |
| Living Colour | Cult of Personality | 03/05/2013 |
| Maroon 5 ft. Christina Aguilera | Moves Like Jagger | N/A |
| My Chemical Romance | Sing | N/A |
| P!nk | Raise Your Glass | N/A |
| Queen | Death on Two Legs (Dedicated to…) | N/A |
| Quiet Riot | Bang Your Head (Metal Health) | N/A |
| Red Hot Chili Peppers | Give It Away | N/A |
| Rick Springfield | Jessie's Girl | 05/28/2013 |
| Shinedown | Diamond Eyes (Boom-Lay Boom-Lay Boom) | N/A |
| Soundgarden | Spoonman | 01/13/2015 |
| Tears for Fears | Shout | N/A |
* Indicates a re-recorded version of the track.
Because of the smaller setlist, we're only going to talk about our five most wanted songs this week. That said, narrowing it down to 10 was difficult, and getting down to 5 was even tougher!
Avenged Sevenfold – So Far Away
I've always really liked Avenged Sevenfold, but I'm also not a skilled guitarist. Because of this, I never bought the A7X pack since I know I'd never play it. So Far Away is a beautiful ballad that also isn't the most complex thing in the world, which would be perfect for someone like me!
Great White – Once Bitten Twice Shy
Hair metal always translates well to rhythm games, and I get the feeling that this would be no exception. If Rock Band is anything to go by, there's a killer solo in here that WILL catch you off guard if you're not ready for it!
Kool & the Gang – Jungle Boogie
Rocksmith is severely lacking in funk, despite how fun to play it is, especially on bass. This classic cut from Kool & the Gang would be a good starting point. Plus, it was in Pulp Fiction, and more Tarantino music is always good to have!
Queen – Death on Two Legs (Dedicated to…)
For my money this is the best and most cutting revenge song ever written. It's also got an absolute banger of a guitar part AND would help with our huge Queen shortage. All in all, I can think of few songs that would be as essential to have in Rocksmith!
Shinedown – Diamond Eyes (Boom-Lay Boom-Lay Boom)
Written specifically to be exactly what personifies rock, you know that there's a hell of a guitar part lying in here. When they announced the Shinedown pack way back when, this was my number one pick for it, so hopefully it finds its way to Rocksmith soon!
---
This title is a fan favourite for a reason, and while that setlist is a huge part of it, the gameplay is so unique and addictive that it really is of the best rhythm game experiences ever. It's still available to purchase, and I really can't recommend it enough. Just don't forget to blink!
What songs from Rock Band Blitz would you like to see in Rocksmith Remastered? Let us know in the comments!