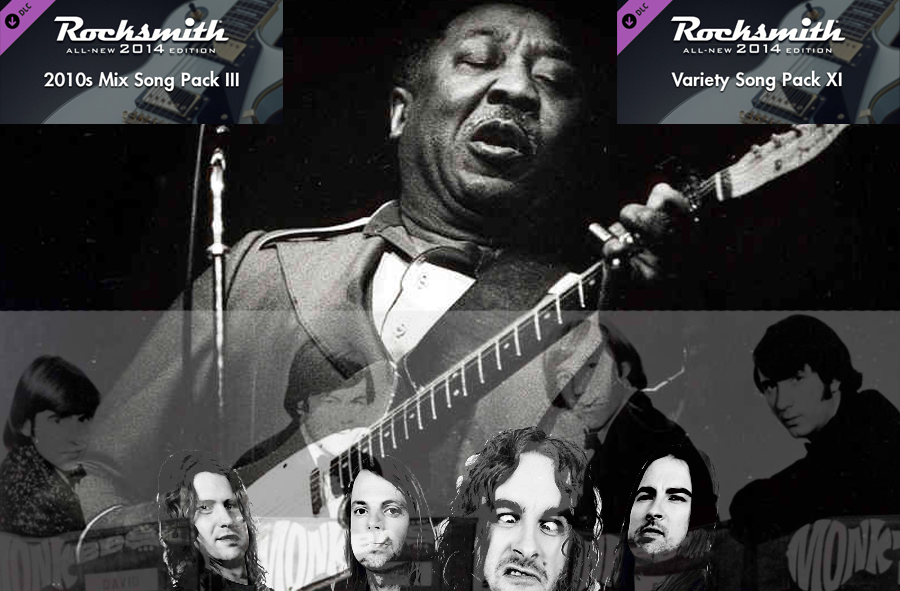 Hello Rocksmith fans, and welcome to another edition of the Rocksmith Remastered DLC Round-Up!
Before we get to August's DLC, let's see how you voted for July.
Seems like the debut of @MarilynManson triumphed over the return of @TheStrokes!
---
Everyone loves a five week DLC month, and August did NOT disappoint.
We started off with the music game debut of @TheMonkees, followed by some 2010-era music featuring newcomers to Rocksmith such as @GaslightAnthem, @BMTHofficial, and @PassengerMusic. Next up we took a trip WAY back to visit the father of Chicago Blues @muddyofficial with a four pack. We hopped on a plane and went down under to visit the hard rockin' Australians of @Airbourne, and finally capped off the month with the 11th Variety Pack featuring songs from @GeorgeStrait, @BombayBicycle, @EscapeTheFate, and @TheFlamingLips!
Wow!
---
Bassists had some choice tracks this month, from Country western to Upright Bass, there certainly was some good material. Let's have a look!
don't be fooled by @pcgamingisted's percentage, this is no Sunday stroll through the park!
It takes a minute for it to kick in, but it's a fairly satisfying bass line if you ask me
A bit tricky to get the rhythm and feel, but once it clicks you'll be playing this upright bass line on your horizontal one
Start the hoedown
Let's Go!
---
Guitarists had a few challenges as well, let's see what was offered this month, shall we?
How was your sightread?
pfft, easy pop song
Once you figure out the arpeggio the rest of the song just clicks
It's not anything tricky, or complex, or even that guitar driven. I still think it's really fun though, also it's in E Standard somehow!
Good luck with the lead arrangement, I'll stick to rhythm…
Did you tune to Open G for that Alternate Slide guitar feel? This is the oldest song in Rocksmith now!
Sail on
Do you like AC/DC? Ok, then you'll like this
You know you wanna try it, we won't tell your metal friends you enjoyed a Country song 😉
---
It's not an all E Standard month, but it's definitely not too far off!
| | | | | | |
| --- | --- | --- | --- | --- | --- |
|  Arrangement | E Standard | Eb Standard | Drop C | Capo Required | Open G |
| Lead | 14 | 1 | 1 | 1 | X |
| Rhythm | 15 | 1 | 1 | X | X |
| Bass | 15 | 1 | 1 | X | X |
| Alt. Lead | 1 | X | X | X | 1 |
| Alt. Rhythm | 2 | X | X | X | X |
Which brings one question to everyone's minds…
See you next month!