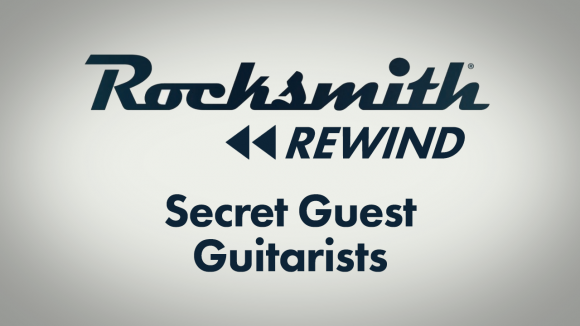 Hello Rocksmith fans!
There are some great musical collaborations out there. Run-D.M.C. and Aerosmith, Queen and David Bowie, even recently with Post Malone and Ozzy Osbourne. However, sometimes there are guests on songs who aren't as publicized as they could be. Do you know what Rocksmith songs have you playing riffs and solos from some super talented guitarists who aren't mentioned at all? You will shortly, as I've done the research for you! Let's take a look!
Stevie Ray Vaughan / James Brown "Living in America"
Perhaps an obvious one to some of you, Stevie Ray Vaughan did some classic Stevie guitar work on this track. A great song to buy along with the Stevie Ray Vaughan Song Pack.
Kerry King / Beastie Boys "No Sleep Till Brooklyn"
Rap and metal might not have seemed like the obvious mix back in the day, but Kerry King and those beastly lads helped pave the way for more rap/metal fusions. Slayer's Kerry King appears on the track playing a terribly good solo.
Brian May / Lady Gaga "You and I"
Lady Gaga is a massive Queen fan – her name being derived from Radio Ga Ga. So to have Brian May play on one of your songs must feel pretty great! Brian May does what Brian May does best with a bendy solo you're going to want to try out.
Johnny Marr / The Cribs "We Share The Same Skies" & Modest Mouse "Dashboard"
Johnny Marr gets around a lot. So much so that he has a Wikipedia article dedicated to just a list of his guest recordings! Famous for The Smiths and other high profile collaborations, you can play some signature Marr sounding riffs with two songs in the library.
Billy Sheehan / B'z "Giri Giri Chop" & Tak Mastumoto "GO FURTHER"
Billy Sheehan, best known for The David Lee Roth Band and Mr. Big, is a fantastic bassist who implements 'lead bass' techniques such as chording and two-handed tapping. He's also just generally very good at the thick-string. A prolific collaborator, his work with the Japanese band B'z, and B'z founding member Tak Matsumoto, can be found in game and are worth a look if you want some fun bass to try out.
Jeff Beck / Jon Bon Jovi "Blaze of Glory"
One of the greatest guitarists in the world, the former Yardbirds guitarist played the solo in Bon Jovi's track. A fantastic track from a great pack, Beck's solo work helps push this one in to a must-buy.
---
Were any of these surprising to you? Or are you already on wikipedia trying to find all the ones we missed? Let us know!