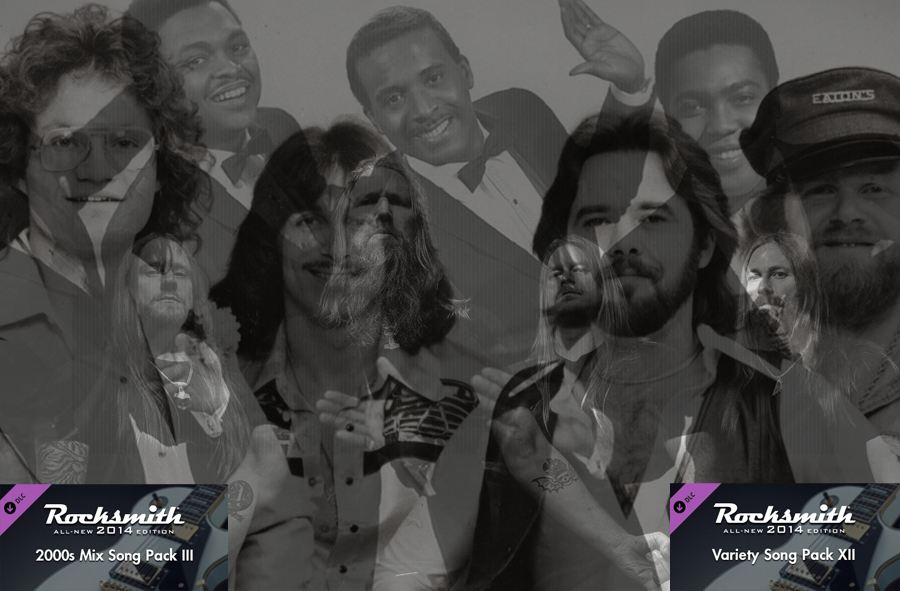 Hello Rocksmith fans, and welcome to the October edition of the Rocksmith Remastered DLC Round-Up!
Before we get to October's DLC, let's see how you voted for September!
Rockin' Covers was the winner by a mile for September, but it seems like the 80s is still strong with Rocksmith fans especially when it includes Huey Lewis, Ratt, and Steve Winwood! A few of you thought the post-hardcore antics of Thrice were worth checking out but overall a Sad! showing of support for the return of 3 Doors Down.
---
Wow! October certainly was a huge month for Rocksmith! We started off with a love letter to bassists everywhere in the form of a four pack from the Four Tops, the next week we took a trip back to the early 2000s with three new artists to the library including Kelly Clarkson, Band of Horses, and Hinder. Next up we took a visit to Canada with a three pack from Bachman-Turner Overdrive, got another four tracks of variety including the monstrous power metal anthem Through The Fire and Flames by @DragonForce, and finally capped off the month with some br00tal downtuned melodic death metal from @AmonAmarth!
---
Bassists had some great moments this month, let's check out a few!
Kevin makes this look easy, the whole pack is fantastic on bass!
Did you know Disturbed and Kelly Clarkson shared the same bassist? Either way this is a surprisingly fun line to play
Hey bud, check out this bass line, real killer.
Must own content
This one is a real work out
How much do you hate your strumming arm?
---
Guitarists had their work cut out for them in October, good luck!
Saxatar anyone? Great chord progression to work on as well
This song is really fun to play, trust me.
Oh, you thought these songs sounded easy to play… Well about that.
How is your finger picking?
Have fun with this one!
Challenging on rhythm as well!
Did you tune down to B Standard for Oden?
How long till halsb hits those sweeps?
Kate not included in DLC package
---
Wait till you see the tunings for this month!
| | | | | | | |
| --- | --- | --- | --- | --- | --- | --- |
|  Arrangement | E Standard | Eb Standard | B Standard | B Drop A | Drop C | Capo Required |
| Lead | 13 | X | 4 | 1 | 1 | X |
| Rhythm | 12 | X | 4 | 1 | 1 | X |
| Bass | 17 | 1 | X | X | 1 | X |
| Alt. Lead | 4 | X | 1 | X | X | 1 |
| Alt. Rhythm | 1 | X | X | X | X | 1 |
E Standard continues the domination…
Which brings one question to everyone's mind
See you next month!