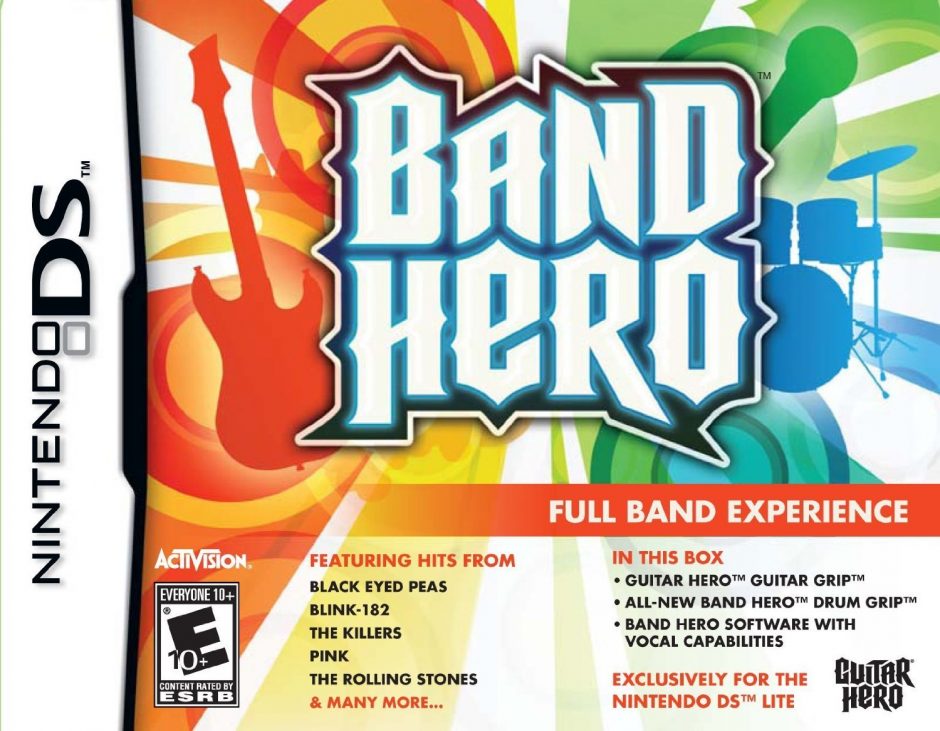 The DS Guitar Hero games were popular enough to warrant three entries in the series, so it wasn't surprising that, deep in to the year of oversaturation that was 2009, they'd make another one. Unlike the previous games, however, this wasn't an On Tour title. Instead we received a portable version of Band Hero, launching day and date with the console equivalent.
Feature-wise, the guitar and bass mechanics are just like those in the Guitar Hero: On Tour series. What was new, however, was the expansion to a full band with the addition of vocals and drums. Vocals are fairly self-explanatory with the DS microphone being used to sing in (it actually works fairly well). Drums are played by using a skin that fits on the bottom of a DS Lite (although it's not needed if you know what buttons to push) that puts drum pads over the buttons that you hit in time.
One thing that didn't return was the Share the Music feature, but up to four DSes could play at the same time to have a proper band on the go. Another thing that Band Hero featured was the ability to fully customize your band. All the songs are unlocked at the start, but playing certain songs and completing challenges would unlock new clothing and venues.
Similar to the console version, Band Hero has a heavy emphasis on more pop oriented hits, although some of the choices were a bit more obscure from the bands like All You Need by Sublime and Boots of Chinese Plastic by Pretenders. Also, just like the other DS games, the North American and European setlists were vastly different, with each version having 15 exclusive songs in addition to the 15 that were shared between the two versions. The North American version had more NA-centric acts like Boys Like Girls, Weezer, and Spin Doctors while the European version was more EU-centric with acts like Kasabian, Blur, and The Last Shadow Puppets.
Between the two games, there is a grand total of 45 songs. Of those 45, 13 are currently available in Rocksmith 2014 for a total of 28%. While it's above Guitar Hero On Tour: Modern Hits' 15%, it's still the second lowest percentage of all the DS Guitar Hero games.
| Artist | Song | Date in Rocksmith |
| --- | --- | --- |
| The All-American Rejects | Believe | N/A |
| Alphabeat | Fascination | N/A |
| Avril Lavigne | Girlfriend | N/A |
| The Black Eyed Peas | Let's Get It Started | N/A |
| blink-182 | First Date | 01/17/2017 |
| Blur | Song 2 | 10/18/2011 |
| Boys Like Girls | The Great Escape | N/A |
| The Cardigans | My Favourite Game | 03/27/2018 |
| Coldplay | Yellow | 02/14/2017 |
| Duran Duran | Hungry Like the Wolf | 08/19/2014 |
| Eagles of Death Metal | Wannabe in L.A. | N/A |
| Editors | Munich | N/A |
| Evanescence | Call Me When You're Sober | N/A |
| Fall Out Boy | Thnks fr th Mmrs | 02/05/2013 |
| Foo Fighters | Monkey Wrench | 11/18/2014 |
| Gorillaz | Feel Good Inc. | N/A |
| Kaiser Chiefs | I Predict a Riot | 3/13/2018 |
| Kasabian | Club Foot | N/A |
| The Killers | Spaceman | 10/28/2014 |
| Kings of Leon | Manhattan | N/A |
| KT Tunstall | Suddenly I See | 05/01/2018 |
| Lacuna Coil | Our Truth | N/A |
| The Last Shadow Puppets | The Age of the Understatement | N/A |
| Lenny Kravitz | Fly Away | N/A |
| Lily Allen | Take What You Take | N/A |
| Maroon 5 | She Will Be Loved | 05/14/2013 |
| MIKA | Grace Kelly | N/A |
| N*E*R*D | Windows | N/A |
| No Doubt | Excuse Me Mr. | N/A |
| P!nk | So What | N/A |
| The Presidents of the United States of America | Lump | N/A |
| The Pretenders | Boots of Chinese Plastic | N/A |
| Queen | Crazy Little Thing Called Love | 06/09/2015 |
| Queens of the Stone Age | No One Knows | 06/02/2015 |
| Razorlight | Golden Touch | N/A |
| The Red Jumpsuit Apparatus | You Better Pray | N/A |
| Robbie Williams | Tripping | N/A |
| The Rolling Stones | Under My Thumb (Live) | N/A |
| Spin Doctors | Two Princes | 04/22/2014 |
| Sublime | All You Need | N/A |
| Sum 41 | In Too Deep | 06/03/2014 |
| Ugly Kid Joe | Everything About You | N/A |
| Vampire Weekend | A-Punk | N/A |
| The Vines | Get Free | 04/16/2013 |
| Weezer | Troublemaker | N/A |
Here's the songs from Band Hero DS that we'd like to see in Rocksmith 2014:
Avril Lavigne – Girlfriend
It's a great, catchy pop punk song that pretty much defines the whole mid-2000s pop punk scene. Sure, it may be a bit simple, but it'd be a fun little beginners track.
The Black Eyed Peas – Let's Get It Started
This song is a certified banger with an absolutely smashing bassline. With the announcement that Hey Ya! is coming to Rocksmith, here's hoping the floodgates for more hip hop have been opened.
Evanescence – Call Me When You're Sober
How have we never gotten more Evanescence? Sure, Bring Me to Life might have been pretty easy, but beginners need songs to rock out to as well. Call Me When You're Sober is yet another classic of the 2000s and would be great to have in your repertoire.
Kaiser Chiefs – I Predict a Riot
While Ruby might be the more well known Kaiser Chiefs track (and believe me, I want that one too), I Predict a Riot has such a great atmospheric feel to it that would definitely make for some fun gameplay.
Kasabian – Club Foot
Despite the fact that this song has effectively been ruined by being used as the entrance music for Arsenal, the worst team in all of football and sports as a whole (COYS), the bassline on this song is too cool to ignore and would surely provide some great tones to use.
Lenny Kravitz – Fly Away
Pretty much one of the only notable late 90s radio friendly light alt-rock songs left that hasn't appeared in Rocksmith, Fly Away has some cool funky guitar work going on that would be an absolute blast to play in the game.
MIKA – Grace Kelly
Despite the fact that MIKA wasn't really big in America, he was HUGE in Europe and we've seen that help acts like The Libertines, Biffy Clyro, and The Stone Roses find their way to the game before. Grace Kelly is a fun little pop song that has a pretty prominent guitar part going on that'd make it a pretty good track for the game.
Razorlight – Golden Touch
Speaking of big British bands… Again, not the most complex song in the world, but I like it a lot and want to have it in a console rhythm game.
Elliott's Picks
The Cardigans – My Favourite Game
It is surprising to say the least that this is the only appearance of The Cardigans in plastic guitar related games (yes, they are in Singstar). A fun and approachable bass and guitar part coupled with the nostalgic late 90s Swedish alt-rock feel makes this a winner in my book.
The Rolling Stones – Under My Thumb
I know we've all been waiting for more content from The Rolling Stones but if I had to pick one song from the only DLC pack Guitar Hero (or any music game) ever released, it would be this one.
Sublime – All You Need
You all know I am a fan of Sublime, and was extremely surprised and grateful at the addition of Badfish. However, this right here is the holy grail of @Sublime songs in music games. @UbisoftStudioSF, if this song is available to license please, PLEASE get it. It's a real scorcher!
Ugly Kid Joe – Everything About You
The 90s song that you should never confuse with the one from that other band, the solo is really going to shock you.
---
There's our picks, what songs would you like to see from Band Hero: DS end up in Rocksmith 2014? Let us know!