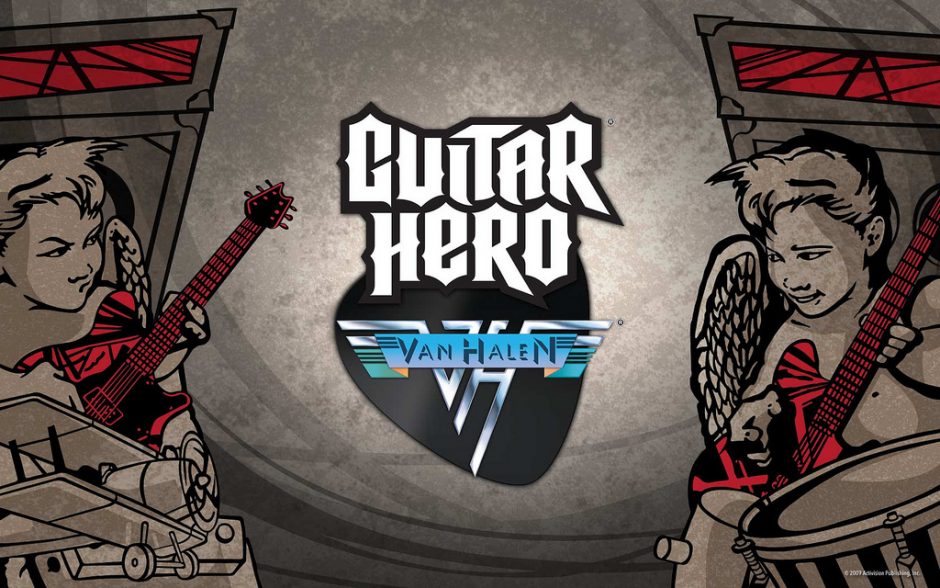 Arguably the most infamous of all the Guitar Hero games, there was definitely a "you get what you pay for" attitude surrounding Guitar Hero: Van Halen. You paid, of course, nothing given that for a long time purchasers of Guitar Hero 5 would be given a full copy of Van Halen for free. If you didn't live in a country that had that promotion (or if you wanted a real case and not a paper slip), however, you could purchase it separately in December of 2009, Guitar Hero: Van Halen would be the 6th and final full price game released under the Guitar Hero brand in the infamous year.
Because of the pack-in nature of the game, it meant that it was developed in the World Tour era and would therefore be using the now outdated Guitar Hero: Metallica engine instead of the then-current GH5/Band Hero one. Because of this, a lot of features like song challenges, party play, and any instrument combination weren't included.
The engine wasn't the only thing that was heavily criticized, however. The absence of anything from the Sammy Hagar era (and to a MUCH lesser extent, Gary Cherone) was a disappointment to people, myself included. In addition, the replacement of longtime Van Halen bassist Michael Anthony with Eddie's then-16 year old son Wolfgang was met with largely the same reaction as it was in real life.
On the subject of Wolfgang Van Halen, one of the other major disappointments with the game was the setlist. While previous band-centric games Aerosmith and Metallica had featured guest acts that were of significance to the band or directly influenced by them (Run-DMC, Cheap Trick, Ted Nugent, ect. in the case of Aerosmith and Mercyful Fate, Mastodon, Suicidal Tendencies, ect. for Metallica), the members of Van Halen clearly couldn't be bothered to pick any. That's why the guest acts were hand picked by Wolfgang who went with people like Yellowcard, Alter Bridge, and The Offspring. Musical opinions aside, the connection to Van Halen is tenuous at best.
Not everything about the game was awful, though. Eddie Van Halen is the truest definition of Guitar God, so what GH:VH had on offer was one of the strongest set of guitar charts in the entire franchise. In a similar vein, David Lee Roth does a lot of really fun vocal stuff which, if you can get past the dodgy vocals engine, makes for a great game to sing, too.
Back to the setlist, 60% of the 47 song setlist consisted of Van Halen music, although three of the VH songs are Eddie Van Halen guitar solos. Of the 47 songs, 8 are currently playable in Rocksmith for a total of 17%. In addition, The Kinks' original version is playable in Rocksmith 2014 while Van Halen's cover is available here. The percentage here is on the lower end of the Guitar Hero scale, but compared to other band-centric titles, it's tied with Metallica and slightly ahead of Aerosmith's 10%.
| Artist | Song | Date in Rocksmith |
| --- | --- | --- |
| Alter Bridge | Come to Life | N/A |
| Billy Idol | White Wedding (Part 1) | 04/30/2013 |
| blink-182 | First Date | 01/17/2017 |
| The Clash | Safe European Home | N/A |
| Deep Purple | Space Truckin' | N/A |
| Foo Fighters | Best of You | 12/17/2012 |
| Foreigner | Double Vision * | 09/30/2014 |
| Fountains of Wayne | Stacy's Mom | 02/19/2018 |
| Jimmy Eat World | Pain | N/A |
| Judas Priest | Painkiller | 04/17/2012 |
| Killswitch Engage | The End of Heartache | 11/04/2014 |
| Lenny Kravitz | Rock and Roll is Dead | N/A |
| The Offspring | Pretty Fly (For a White Guy) | 02/02/2016 |
| Queen | I Want It All | 05/23/2017 |
| Queens of the Stone Age | Sick, Sick, Sick | N/A |
| Tenacious D | Master Exploder | 12/08/2015 |
| Third Eye Blind | Semi-Charmed Life * | 11/29/2016 |
| Van Halen | Ain't Talkin' 'Bout Love | N/A |
| Van Halen | And the Cradle Will Rock… | N/A |
| Van Halen | Atomic Punk | N/A |
| Van Halen | Beautiful Girls | N/A |
| Van Halen | Cathedral | N/A |
| Van Halen | Dance the Night Away | N/A |
| Van Halen | Eruption | N/A |
| Van Halen | Everybody Wants Some!! | N/A |
| Van Halen | Feel Your Love Tonight | N/A |
| Van Halen | Hang 'em High | N/A |
| Van Halen | Hear About It Later | N/A |
| Van Halen | Hot for Teacher | N/A |
| Van Halen | I'm the One | N/A |
| Van Halen | Ice Cream Man | N/A |
| Van Halen | Intruder/(Oh) Pretty Woman | N/A |
| Van Halen | Jamie's Cryin' | N/A |
| Van Halen | Jump | N/A |
| Van Halen | Little Guitars | N/A |
| Van Halen | Loss of Control | N/A |
| Van Halen | Mean Street | N/A |
| Van Halen | Panama | N/A |
| Van Halen | Romeo Delight | N/A |
| Van Halen | Runnin' with the Devil | N/A |
| Van Halen | So This is Love? | N/A |
| Van Halen | Somebody Get Me a Doctor | N/A |
| Van Halen | Spanish Fly | N/A |
| Van Halen | Unchained | N/A |
| Van Halen | You Really Got Me | N/A |
| Weezer | Dope Nose | N/A |
| Yellowcard | The Takedown | N/A |
* Indicates a re-recorded version of the track.
As we've done with all the other band-centric titles, we're first going to look at what we'd like to see in our "dream Van Halen 5-pack" and then take a look at 5 guest songs we'd like to have.
Van Halen
Van Halen – Eruption
Skipping all of the unnecessary "song" nonsense, Eruption is a plain and simple guitar solo. Well, not so simple, actually. Quite complex, in fact. But for a game like Rocksmith, I can't think of anything more perfect than Eruption, especially as a way to perfect your tapping!
Van Halen – Hot for Teacher
Perhaps the only thing more complex than Eruption, Hot for Teacher takes the basics from the solo and builds an entire song around it. Couple that with the fact that it might just be the best hard rock song ever written and there's no way Hot for Teacher doesn't belong in Rocksmith!
Van Halen – I'm the One
To quote (a depiction of) Michael McDonald: "Sweet Jesus, that's smooth!" But man, it really is brilliant!
Van Halen – Panama
As legend goes, David Lee Roth was once told that all his songs were about women, partying, and cars. This prompted David Lee Roth to realize that he hadn't written a song about a car. Thus, Panama was born and the world was better for it!
Van Halen – Unchained
Unchained? Really? C'mon Oscar, give me a break…
Well alright! One break, comin' up!
Guest Acts
Deep Purple – Space Truckin'
We've got Highway Star and Smoke on the Water already, but there's one more essential Deep Purple song that has yet to come to the platform. A great proggy jam that would provide some incredible tones for us to use. Yeah, pretty much essential for the platform.
Fountains of Wayne – Stacy's Mom
A loving tribute to The Cars and one of the most popular rock songs of the early 2000s. Stacy's Mom might not be the most complex song in the world, but there's some nice arpeggio stuff and a decent solo going on and it would make a pretty great beginner song that's not snooze-worthy.
Queen – I Want It All
Arena rock at its finest. Queen's 70s period is definitely awesome, but also very well represented in Rocksmith by this point. This late-era banger is one of the most perfect songs that could be added to Rocksmith with its epic main riff and more solos and variations than you can count. I want this in Rocksmith, and I want it NOW!
Queens of the Stone Age – Sick, Sick, Sick
The awesome fuzzed out bass on this track alone makes this a must have in my eyes. Rocksmith certainly has a decent amount of great basslines, but nowhere near enough. Adding this to the game would go a ways towards fixing that!
Third Eye Blind – Semi-Charmed Life
Pure 90s greatness. Easily the best song ever written about crystal meth that you'll hear blasting over supermarket speakers.
---
There's our picks, what songs would you like to see from Guitar Hero: Van Halen end up in Rocksmith 2014 Remastered? Let us know in the comments!