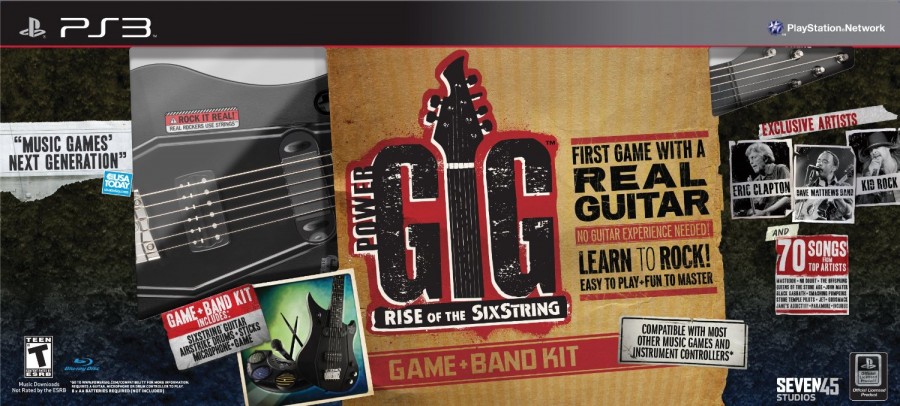 Every once in a while you get a genre defining masterpiece. Games like Grand Theft Auto: Vice City, Final Fantasy VII, The Legend of Zelda: Ocarina of Time, Call of Duty: Modern Warfare, Resident Evil 4 and Super Mario World. While there's no consensus on what's the "ultimate" rhythm game, one thing is for sure. It sure as hell isn't Power Gig: Rise of the SixString.
Real guitars, real differences. Seven45 Studios issued this attack on the then-upcoming Rock Band 3 back in early September of 2010. This was the second high profile attack on rival rhythm games, just after the now infamous "Volcano Drop" commercial. The game hadn't even shipped yet, and it had managed to alienate almost the entire rhythm game audience.
When the game ultimately shipped in October of 2010, almost definitely rushed to beat the aforementioned Rock Band 3 by a week, the "finished" product was somehow worse than the already low expectations people had for it. The graphics looked worse than the original Guitar Hero did on PS2, the note highways were right out of Rock Revolution, and the storyline made Guitar Hero: Warriors of Rock look like BioShock.
The story mode was the main meat of the game. I'm not going to go too in depth in to it because I'd rather forget it myself, but essentially music has been outlawed and these rival music gangs all get thrown in jail for playing. They discover that together they have the true power of music and go out on a quest to bring the gangs together and save music for everyone. If you'd like to experience it in all its cutscene glory, thenewnoelisoncruz has the whole thing uploaded. I highly recommend watching it at least once.
As bad as the story was, it was FAR from the worst thing about the game. No, that would go to the instruments. First up was the titular SixString. The core gimmick behind Power Gig was that having a real guitar peripheral would make the game perfect for teaching you how to actually play guitar. That's right, Power Gig: Rise of the SixString is technically the first ever "real guitar" game! In execution, however, all it would do is make notes have power chords that sort of matched the song but were still only limited to the first 5 frets. Like most of Power Gig, this doesn't actually seem to work that well. Despite being an owner of an official Power Gig SixString guitar, when I boot up Power Gig it tells me that I'm not using a SixString and as such will not have access to the Power Chord mode. The guitar itself was made of cheap plastic and was only 3/4 of the size of a real guitar. It would lose tune quickly, and just generally felt terrible to play. Still, it WAS a real guitar, so that's got to count for something.
Of course, to only talk about the guitar would be to negate the "greatest" peripheral Power Gig released. I'm referring, of course, to the AirStrike Drums. As much as Power Gig liked to proclaim that it Rocked It Real, the drum set was an air drum set. The basic mechanism was that the pads would be placed on the floor and you'd use special drum sticks to break the laser and register it as a hit. As you've surely figured out, they don't work well. That's sort of a recurring theme with Power Gig.
The setlist itself could be considered to be one of the few saving graces of the game. There were the much hyped up exclusivity from Dave Matthews Band (which, in the end, didn't pan out so well), Eric Clapton, John Mayer (who was evidently not important enough to make the cover), and Kid Rock. No one is more authentic than Kid Rock. The setlist gave us 70 songs from the 70s through to 2010, and there was even a (to this day still) unreleased Black Label Society song!
If you ACTUALLY want to learn these songs on guitar, you're somewhat in luck. Of the 70 songs, only 13 have found their way over to Rocksmith, for a total of 18% which ties it with Band Hero for the second lowest of any non-band centric title we've looked at so far, behind only Guitar Hero On Tour: Modern Hits.
| Artist | Song | Date in Rocksmith |
| --- | --- | --- |
| The Academy Is… | His Girl Friday | N/A |
| Bad Religion | I Want to Conquer the World | N/A |
| The Black Keys | Strange Times | N/A |
| Black Label Society | Retribution | N/A |
| Black Sabbath | The Devil Cried | N/A |
| Breaking Benjamin | Breath | N/A |
| Buckcherry | Tired of You | N/A |
| Channels | Chivaree | N/A |
| A Cursive Memory | Everything | N/A |
| Damiera | Silvertongue | N/A |
| Dave Matthews Band | Funny the Way It Is | N/A |
| Dave Matthews Band | Tripping Billies | N/A |
| Dave Matthews Band | Why I Am | N/A |
| Disturbed | The Night | 04/12/2016 |
| The Donnas | Fall Behind Me | N/A |
| Envy on the Coast | Head First in the River | N/A |
| Eric Clapton | Lay Down Sally | N/A |
| Eric Clapton | Layla (Derek and the Dominos Version) | N/A |
| Eric Clapton | Let It Rain | N/A |
| The Fatal Flaw | Don't Start Believin' | N/A |
| Firewind | Head Up High | N/A |
| Flyleaf | Again | 07/12/2016 |
| The Get Up Kids | Martyr Me | N/A |
| Godsmack | Awake | 06/17/2014 |
| The Hives | Tick Tick Boom | N/A |
| The Hounds Below | She's Alchemy | N/A |
| I See Stars | Comfortably Confused | N/A |
| Idlewild | Readers & Writers | N/A |
| Incubus | Wish You Were Here | 02/26/2013 |
| Jane's Addiction | Been Caught Stealing | 02/17/2015 |
| Jet | She's a Genius | N/A |
| John Mayer | Crossroads | N/A |
| John Mayer | No Such Thing | N/A |
| John Mayer | Who Did You Think I Was | N/A |
| Kid Rock | All Summer Long | N/A |
| Kid Rock | Rock 'n Roll Jesus | N/A |
| Kid Rock | Son of Detroit | N/A |
| KoRn | Hold On | N/A |
| Lacuna Coil | Spellbound | N/A |
| Living Colour | Cult of Personality | 03/05/2013 |
| A Love Like Pi | Innocent Man | N/A |
| Mastodon | Crack the Skye | N/A |
| Mutemath | Chaos | N/A |
| New Found Glory | Listen to Your Friends | N/A |
| No Doubt | Platinum Blonde Life | N/A |
| The Offspring | You're Gonna Go Far, Kid | 02/02/2016 |
| Ozzy Osbourne | A.V.H. | N/A |
| P.O.D. | Alive | N/A |
| Paramore | Ignorance | N/A |
| The Paris Riots | Hotel of Infidels | N/A |
| A Perfect Circle | The Hollow | N/A |
| Puddle of Mudd | Blurry | N/A |
| Queens of the Stone Age | You Think I Ain't Worth a Dollar, But I Feel Like a Millionaire | N/A |
| Rage Against the Machine | Bombtrack | 12/09/2014 |
| Rise Against | Paper Wings | 05/03/2016 |
| School Boy Humor | Camera Shy | N/A |
| Sick Puppies | You're Going Down | N/A |
| Silversun Pickups | Substitution | N/A |
| The Smashing Pumpkins | Cherub Rock | 10/22/2013 |
| Snow Patrol | Hands Open | N/A |
| So Many Dynamos | Artifacts of Sound | N/A |
| Stevie Ray Vaughan | Couldn't Stand the Weather | 11/15/2016 |
| Stone Temple Pilots | Plush | 12/22/2015 |
| Superdrag | Aspartame | N/A |
| Surfer Blood | Swim | N/A |
| Taxpayer | When They Were Young | N/A |
| Three Days Grace | Break | 01/27/2015 |
| The Tragically Hip | New Orleans Is Sinking | N/A |
| The Used | Blood on My Hands | N/A |
| Willowz | I Know | N/A |
In addition, there were three DLC songs for about a week, and one of them is available in Rocksmith.
| Artist | Song | Date in Rocksmith |
| --- | --- | --- |
| The Mighty Mighty Bosstones | The Impression That I Get | N/A |
| Modest Mouse | Dashboard | 06/12/2018 |
| Reel Big Fish | Beer | 05/31/2016 |
The setlist was actually pretty decent, despite everything else about the game. Here are the 10 songs we'd like to Rock It Real to in Rocksmith 2014 Remastered.
Bad Religion – I Want to Conquer the World
The first Bad Religion pack was amazing and long overdue, but it focused almost entirely on their later, somewhat more mainstream (but still awesome) period with none of their faster paced 80s stuff represented. I Want to Conquer the World may not be long, but it'll give your strumming arm a workout!
Dave Matthews Band – Tripping Billies
Rocksmith is always in need of more great acoustic songs, especially with the new patch allowing you to use a microphone instead of a cable. Dave Matthews Band may not be "cool" anymore, but there's no denying that the definitely had some great songs! Besides, that violin solo is amazing and hopefully would show up on an alt-lead.
Jet – She's a Genius
What ever happened to Jet? For a few years they were one of the biggest bands in the world. Regardless, they left behind some amazing songs and while we already have their biggest one, more would not go amiss.
John Mayer – Who Did You Think I Was
This'll be a very controversial pick, but John Mayer is one of the most popular artists today and this song is a straight banger of a hard rocking blues track. His music is historically very hard to license, but Power Gig managed to lure him in with the promise of a real guitar, so I'd imagine Rocksmith would have no problem doing the same!
A Love Like Pi – Innocent Man
One of the most obscure songs in Power Gig, this probably has one of the lowest chances of arriving in Rocksmith. That said, I think it's one of the real hidden gems in the setlist. While it may not have too much complicated guitar work, it's got two fun sounding riffs and a bunch of cool tones to offer beginner players.
Mastodon – Crack the Skye
Tunings no longer seem like they're too much of a restriction for Rocksmith these days, and we've already gotten some Mastodon in the game so there's no reason for us to not get this modern metal masterpiece in the game. Featuring a killer riff and one of the best solos in all of Power Gig, this song would surely satisfy all the metalheads looking for a challenge.
Paramore – Ignorance
It would seem that pre-self-titled Paramore is pretty much an impossibility for some reason, but with the recent sort of return of Zac Farro to the band perhaps those odds have increased a whole bunch. If there's even the slightest chance, this high energy pop rock track needs to appear in the game!
Queens of the Stone Age – You Think I Ain't Worth a Dollar, but I Feel Like a Millionaire
Sure, we have a decent amount of Queens, but gimme some more, gimme some more.
Surfer Blood – Swim
A fun little indie rock jam. You might remember this as being the background music at every E3 conference a few years ago.
The Tragically Hip – New Orleans is Sinking
For those of you who aren't Canadian and might have missed out the legends that are The Tragically Hip, they really are a huge deal up here. Huge enough to support at least a five pack, especially with the recent fervor surrounding the unfortunate news of Gord Downie. New Orleans is Sinking, however, is easily their biggest international hit and would be right at home in a proper rhythm game.
---
Power Gig: Rise of the SixString is a bad video game. Do not buy Power Gig: Rise of the SixString. Here's our review by @BrianPShea.
Despite the poor implementation ya gotta admit the setlist is pretty impressive, what songs would you like to see appear on Rocksmith Remastered? Let us know!